If you've taken a stroll around Auroville, you know that greenery is a major component of the landscape. Bushes, shrubs, plants and of course the mighty and majestic trees, in all their types, shapes and colours. The forest has grown marvelously in the past 50 years, but when trees grow they also pose a risk to electrical lines, roofs and roads. Tree Care is the 9 member team responsible for all the tree maintenance work in Auroville. We spoke to Jonas, who joined Tree Care in 2014, to give us an insight into the world of taking care of these gentle giants.
Offering a New Service in India
Tree Care was started by Juan, an Aurovilian who had learned Arboriculture in Spain. Arboriculture is the cultivation, maintenance and study of trees and other woody plants. Over the years, team members joined and left until Tree Care was left in the hands of two Auroville youth: Anadi and Julian. When Jonas came back to Auroville in 2014, after receiving a degree in Economics, he was unsure about what he wanted to do. "I didn't really have a plan, I just knew I wanted to come back to Auroville. When I got back, about two weeks later, Anadi and Julian asked if I wanted to join Tree Care. At first I was unsure, I wondered if my degree was related to the work. But then we started discussing how we could use my expertise and run Tree Care like a business, to expand it around the country, and offer a service that is not yet available in India. That got me excited, and I enjoyed the physical work of the climbing as well, so it fell into place from there."
What does the work entail? Jonas explains: "Tree work as a broad term covers any work done on trees. Tree removal, for example, is done if a tree dies because of old age or infestation. We do this if it's causing risk because it's either over a road or next to a roof. How we decide this is by doing tree risk assessment. We evaluate how much of a risk is present and how healthy the tree is. Then we make a decision. Is it worth it to help it grow stronger and keep it in the same place? Or is it a problematic tree and the smarter thing is to remove it, and plant a new tree?
Another thing we do is transplantation. We shift trees, so if you have a beautiful tree that you don't want to cut down but you're planning an extension of the house or god knows what, then many trees like that can be relocated. So when we talk about tree work it's anything tree related, even a consultation. The work is quite diverse."
Office with a View
Working in the green sector of Auroville is fulfilling for Jonas, who enjoys the fact that he can hang out in the canopies of our community. "Green work in Auroville is extremely rewarding. I'm out in nature all the time and it's not monotonous, every day is a different job site, and a different place. You don't get bored and think 'Oh, the view from my office is always the same.' It feels good to know that all the trees we take care of have a higher chance of having a good life, because we've been there and put the work into it."
But with any line of work, it comes with its fair share of challenges. "It's also extremely exhausting, physically and mentally. There's no scope for error, if you make a mistake, you could be breaking someone's property, or hurting someone or hurting yourself. It is a dangerous industry to be working in. One also has to think long term: how can I continue to do this indefinitely? That's a challenge here in Auroville, where money is a problem. Usually, a big percentage of tree care work is done by machines, but we don't have that financial possibility at the moment. That means that we do all our work manually and that wears down your body faster."
A Better Life for Trees and Workers
Tree Care is now planning to shift its focus into education. Arboriculture is still not very prevalent in India, and Jonas thinks that it needs to change. "We realize that education is a bigger part than the actual physical work. First we need to educate people on the topic of tree care. We can't continue to hack branches the way that we have in the past. At the moment, it's still a very niche market. Most people aren't willing to pay the extra amount for better quality service. I think it's due to lack of education and awareness of the importance of it"
Tree Care wishes to also contribute to the safety of workers in large agriculture corporations. They recently worked with a Coffee company. "They approached us wanting us to train their workers because coffee grows in semi shade. It needs trees to provide that shade. These trees need to be pruned or the coffee won't grow. So they were doing pruning with no safety regulations, about a 1000 people working on pruning. They have casualties every year. So we went there and did demonstrations on how to do this work safely. You can train many people at once, and with just a little training you improve safety and the quality of work."
The Work Ahead
In Auroville itself, Tree Care does about 80% of the tree work. Jonas wants the service to be aimed more outwards. "Budget is always an issue. We're hoping that in the future, Auroville will allot a budget to work on all the trees in public areas."Another project that would help Tree Care do their job better is having a tree inventory, which they have in Europe already. "It's a database where each tree has a log of previous work done on it, like a doctor's report. This helps arborists to do their job – you have a better chance of treating whatever problem you have in front of you, because you have more information about previous work, diseases, etc. Tree mapping and tree inventory would help Tree Care to do much better work."
The 9-member team also contributes the success of their work to their group dynamic. "We are like a family. This industry is high-risk so we need to have perfect communication, we need to trust each other and get along well. If we have a bad atmosphere between the team, more accidents are likely to happen because we're distracted. When things just click perfectly, when everyone knows their task then everything goes seamlessly. Everyone can feel it and it's extremely rewarding"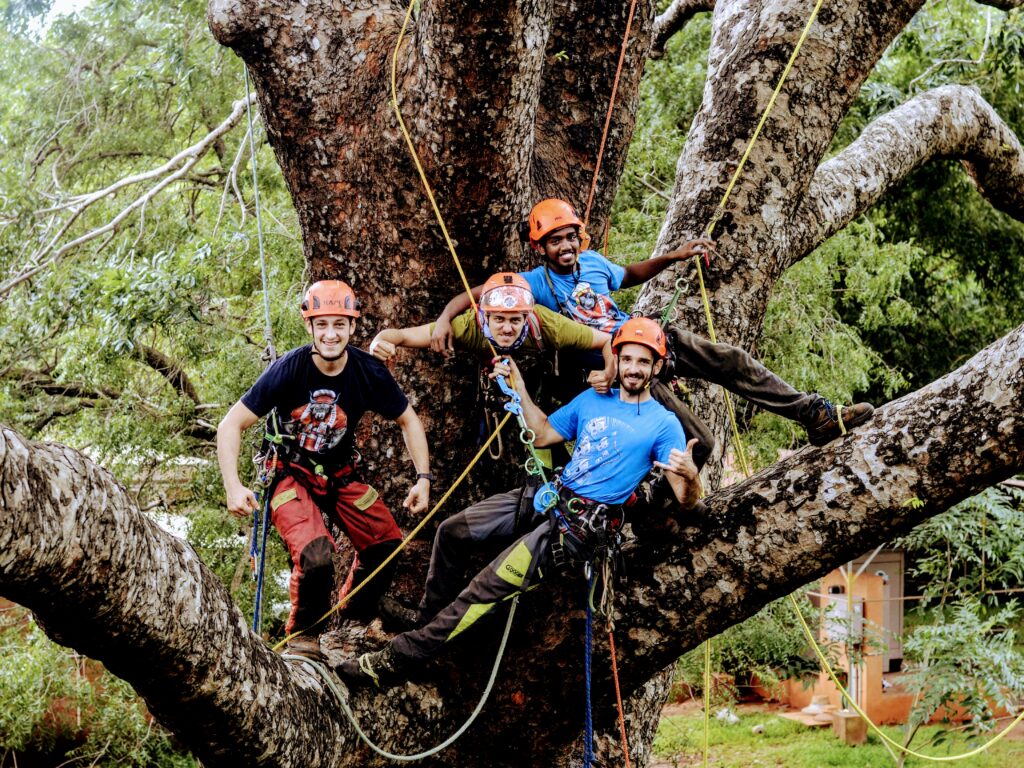 Check out the Tree Care website here!
Jonas also has an Instagram account full of great pictures of the guys in action 🙂