For in this ideal place money would no longer be the sovereign lord; individual worth would have a far greater importance than that of material wealth and social standing.

The mother
In the beginnings of Auroville, a barter and exchange system was in place to provide the initial residents with their basic needs: food, shelter, and clothing. Now Auroville has grown, and inherently, the needs of the people have grown as well. The economy of Auroville is still trying to provide Aurovilians with their basic needs, and one of the pillars of this effort is the Free Store, where everything on offer is Free. We spoke to Kamala, who has been working at the Free Store since the 1980s.
Kamala is happy to work for a service so close to the ideals of Auroville: "Free Store has been around since the beginning of Auroville. In those days there was no money involved in Auroville, and Free Store was the service that took care of providing clothes and garments for the people. It's one of the services that is still around after 50 years, carrying forward the true spirit, and it's the only service in Auroville that has no money exchange whatsoever. Why has the Mother given us a Free Store? What does Free mean? It's Free from yourself! By giving, you become more free, and you experience the joy of sharing."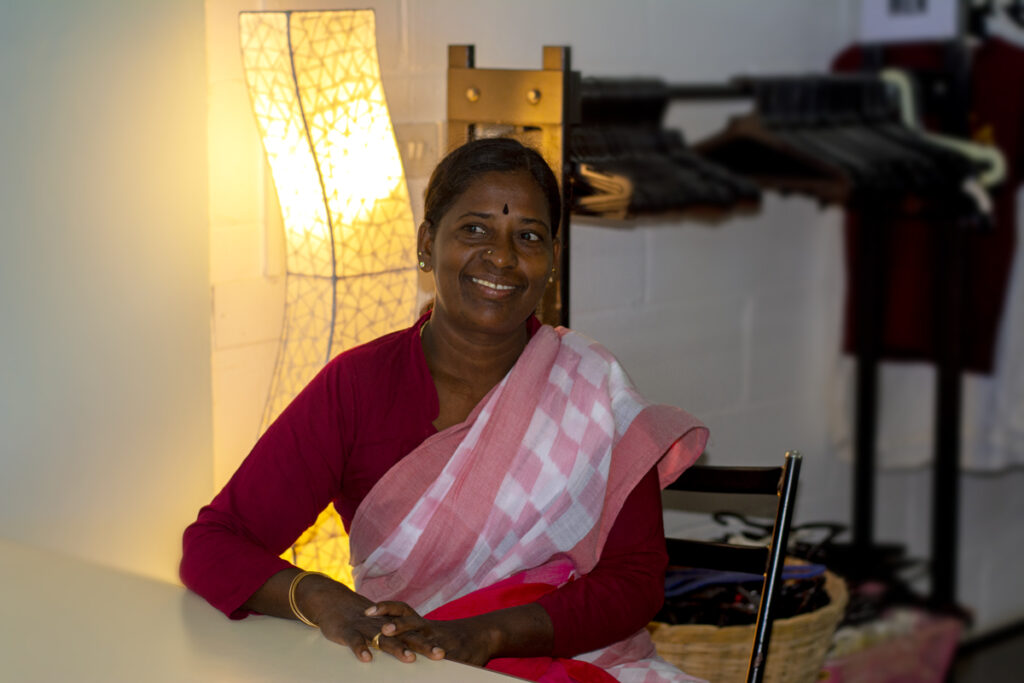 A Question to Yourself
Kamala has always known that Auroville was the place for her: "I was born in the neighbouring village of Kuilapalayam, in the same year as Auroville's birthday, and I grew up quite integrated into the community. I studied outside but during holidays, and when I did sports here I really integrated into Auroville. Something could not separate me from Auroville since childhood."
Now after living, and working in Auroville for over 30 years, Kamala still maintains the same energy as when she started. But of course, the work also comes with its challenges. "Every day is a new day, and every day is a challenge. You are meeting different people everyday. For me every day is a new kind of work. For us right now we simply need a bigger place, the space right now we are a little squished because we have a big flow of clothes. So we hope that soon we will be able to move to a larger space."
But apart from work, Kamala spends time questioning herself and her purpose in the community. "It's a gift, and it's a challenge to be here. You have to go on many different paths, questions yourself, but not forget the goal you want to reach. I ask myself everyday "What am I doing here? What am I supposed to do?" How can I progress myself? How can I serve the community? There are many different levels of myself and different ways I question myself."
No Strings Attached
How does it work? The Free Store doors are open to all Aurovillians and Newcomers. You can bring usable clothes that have lost their charm to you, but that might be useful to someone else. The Free Store space is filled with many beautiful clothes for women, children and men. But in addition to clothes, they have books, ceramics, CD's, sunglasses, bags… the list of items gets longer every year. You can simply walk in, pick something that calls to you, and walk out with it. There are no strings attached. The only thing to keep in mind is to be conscious of others. "There are people who want to come here all the time. I'm here to express that we are all brothers and sisters, and we have to share. It's a service that connects also, and you have to be aware of other people's needs, so you have to keep that balance."
In addition to the clothes, they also have a tailoring section where they do basic repair, zip fixing, button adding etc. The aim is also to raise a consciousness for re-using instead of buying something new. "We want more tailors, because people are realising that it's better to fix your clothes than get new ones, and we want to implement this kind of behaviour also," says Kamala.
The Free Store is a wonderful place to see how a moneyless exchange system can really work in reality. But apart from the idea, it is the people working there that give energy and vibrancy to the overall atmosphere. There is joy in the work, and you can really see it. "It's not only about managing the clothes. I meet many different kinds of people, each one has a unique expression, each one has beautiful knowledge to share. It's not just that you come here and choose the clothes, there are so many interactions and opportunities to get to know each other, and get closer to one another. It's given me a wider knowledge. Auroville isn't just one thing, a big mix of everything is given to you, so how you want to present yourself and receive is up to you. It also means the work brings something else every day. People ask me 'How long have you been working here?' I always reply: 'I'm starting new today.'"