Co-written by Ashwini
The Auroville Bakery is well-known for its traditional French pastries, and a visit is a highlight in many people's stay in Auroville. Beyond the large sign at the entrance – "Auroville bakery, Rotikashala, Boulangerie" – is the baker shop, with its delightful array of breads, cakes and cookies. Walk a bit further through the narrow garden path, and you'll find a large seating area surrounded by greenery. Over the years, many Aurovilians came and went, helping to make the bakery what it is today. Tracing the origins of this Kuilapalayam gem means going back in time a full half-century, to Auroville's early days…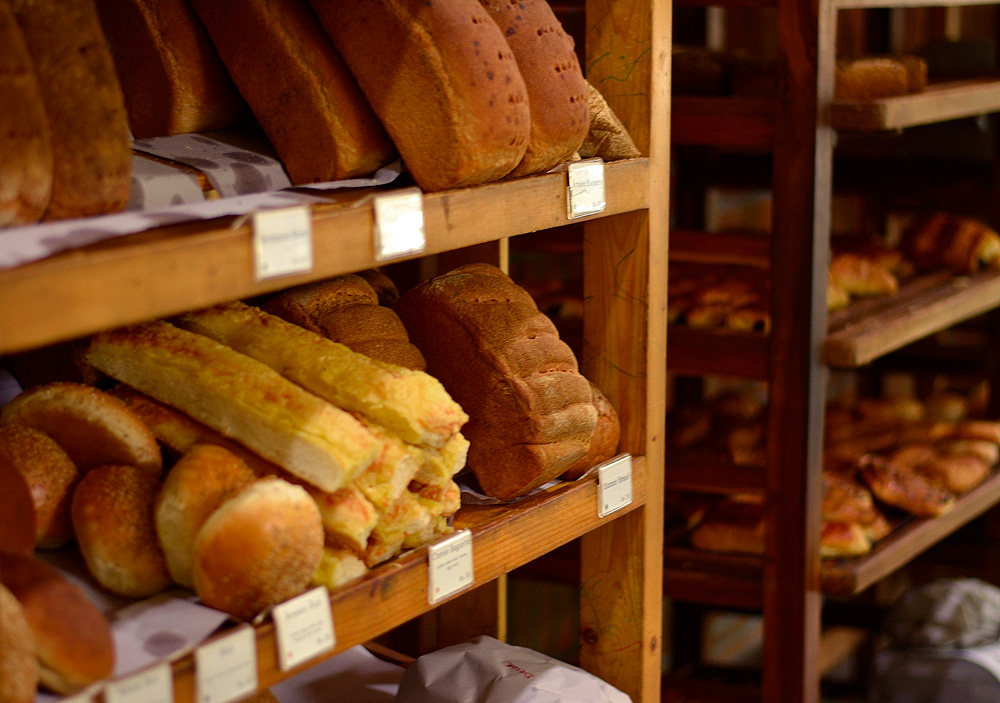 Beginnings
Roy came to Auroville from Boston in 1971, and remembers the hardship of those days. "The first couple of years we were living with very little money", he says. "We were hungry a lot of the time". Early Aurovilians' meals often consisted of a few slices of bread with a spread of Dalda (vegetable ghee) and rock salt. As a result, producing bread from the rationed wheat was vital. Roy made bagels for a while at a bakery set up in Aspiration and run by Chris, but his dream was to make whole wheat bread.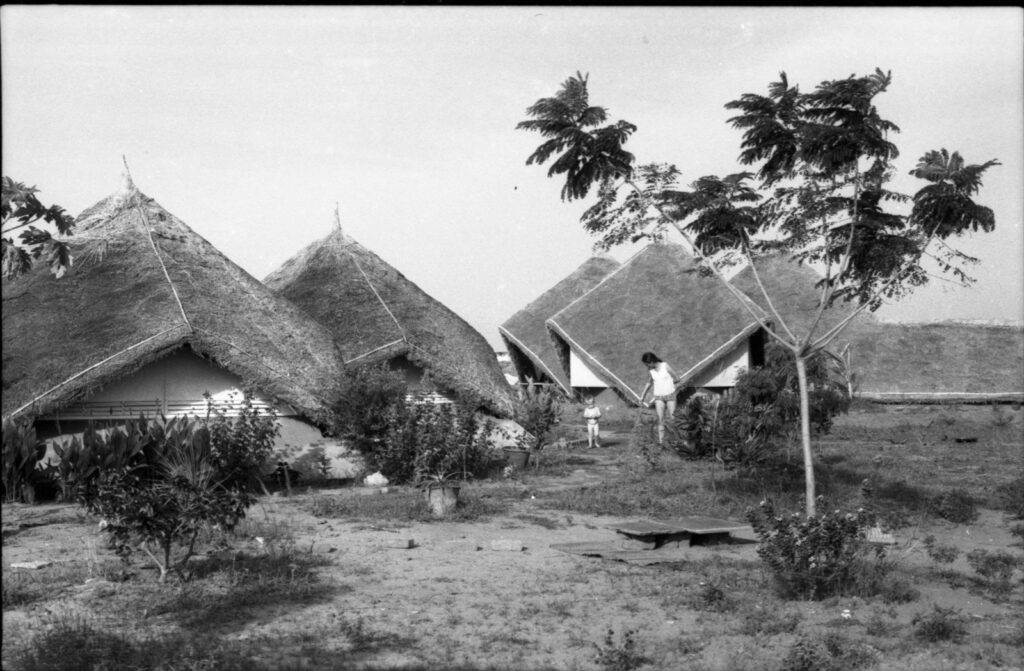 As Auroville continued to develop, some Aurovilians asked The Mother if they could start a new community in Kottakarai to bridge Auroville and the village, and she gave her blessing. It was there, in Kottakarai's Palmyra grove, that Larry and Roy started their first bakery sometime in 1972-73.
Daniel, a founding member of that community, had showed them how to make a sourdough starter, and the design for an oven made from an oil drum came from a visiting New Zealand man named Tim. They hired the young Sundaram, and were soon making 200 whole grain loaves a day for the nearby people.
But having no roof made baking during the monsoon impossible. With funding from John Walker, a permanent bakery was built in 1975 in a keet shed, where Celebration community is today.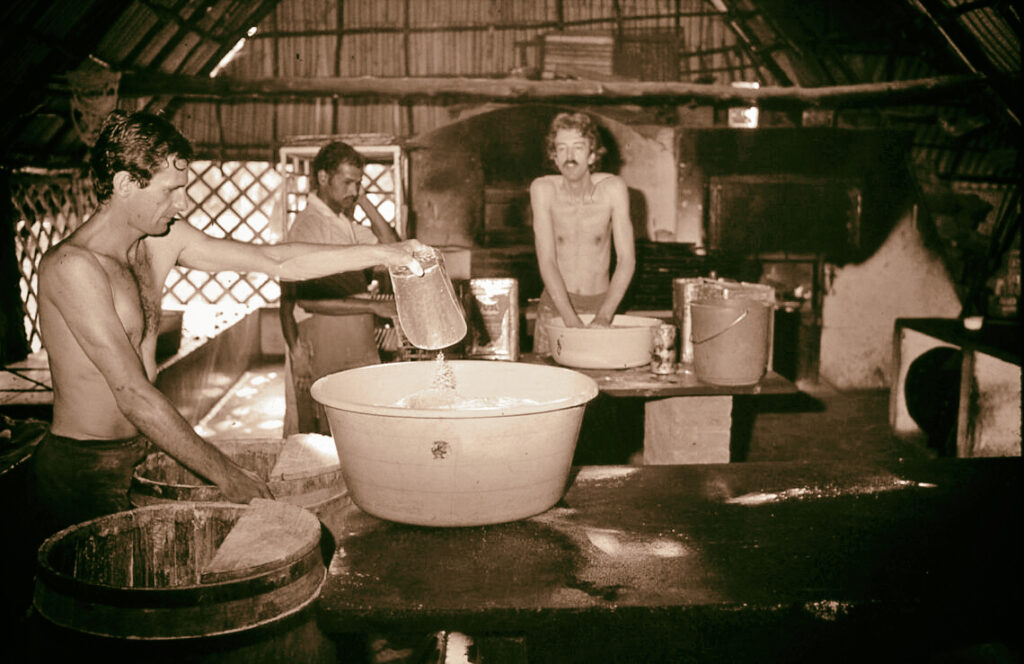 "The wheat and local millet came from government rations", Sundaram recalls of that time, when Auroville was struggling. "It was not at all of good quality – yet the bread was received with all love from the community.". As would happen many times during the Auroville Bakery's history, the staff changed, and responsibility for the shop soon passed to Otto and Jean-Denis.
"It was a kind of an open space, where animals could come in and go anytime.", Otto remembers. "Apart from Sundaram, none of us were professionals. He used to bake the whole day… And we too learned with him. There were the normal wheat bread and sourdough bread, as well as buns and muffins for the various communities of Auroville. We did everything. Besides baking we had to do all the washing and cleaning ourselves."
"Some of our customers were the villagers. They would come on weekends to purchase bread and muffins, after they received their sambalam! (salary)"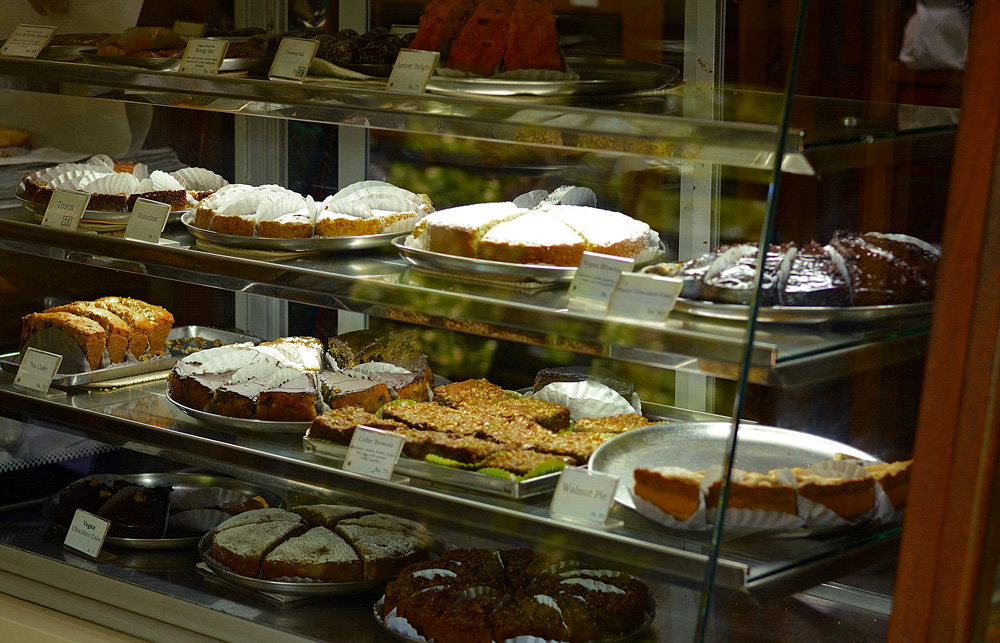 "The situation was challenging, and we faced constant drama. There were two old ovens, and the heat was very unequal. So the bread dough had to be shuffled around two or three times till it baked. Without constant attention, it could either get burned or stay half cooked. We had this aloe-vera pot outside, since we would often get burned by the steam."
"Fire wood came in different qualities, which affected the time of baking, especially during monsoon when the wood was wet. We used to have several power cuts a day. Customers had to wait till noon to get bread for the next day. No professional bakers would have worked under those conditions!"
With money saved up from baking cookies, and a loan from some Aurovilians, it was finally possible to move the bakery to another place. The current site near Douceur in Kuilapalayam was agreed upon out of three options in 1985.
French pastries in India
It was around 2000 that Jacky was asked to replace a friend who was leaving. Trained at the Aspiration bakery, Jacky's passions were brioches (egg buns) and pretzels. Jacky is still amazed at the enthusiasm of volunteers at that time coming from many different countries, and the quality of their teamwork. "We had only two rules: No bad words, and be on time", he recalls.
"After one year of doing the bread I was thinking: 'I'm French, why can't I make croissants?'", Jacky says. There were no croissants in India at the time, and he did a lot of experimenting but was still not satisfied with the results, choosing to give them away for free: "it's not croissants. We cannot sell them", he would say.
Things changed with the arrival, one month later, of a French expert in pastry finishing named Moïse. Moïse's mission and legacy in Auroville was to manifest the Auroville croissant, says Jacky. Over two visits Moïse stayed a total of one year, with the singular mission of creating the perfect Auroville pastries.
Ever the croissant enthusiasts, Jacky and Moïse set to work every day starting at 2 am, working out every detail of the recipes for large croissants and sacristains (long twisted treats), just like the ones in France. They installed a new dough-making machine, a fan and an air conditioner to make their bakery pakka. Since then, croissants have become the Bakery's best-selling product.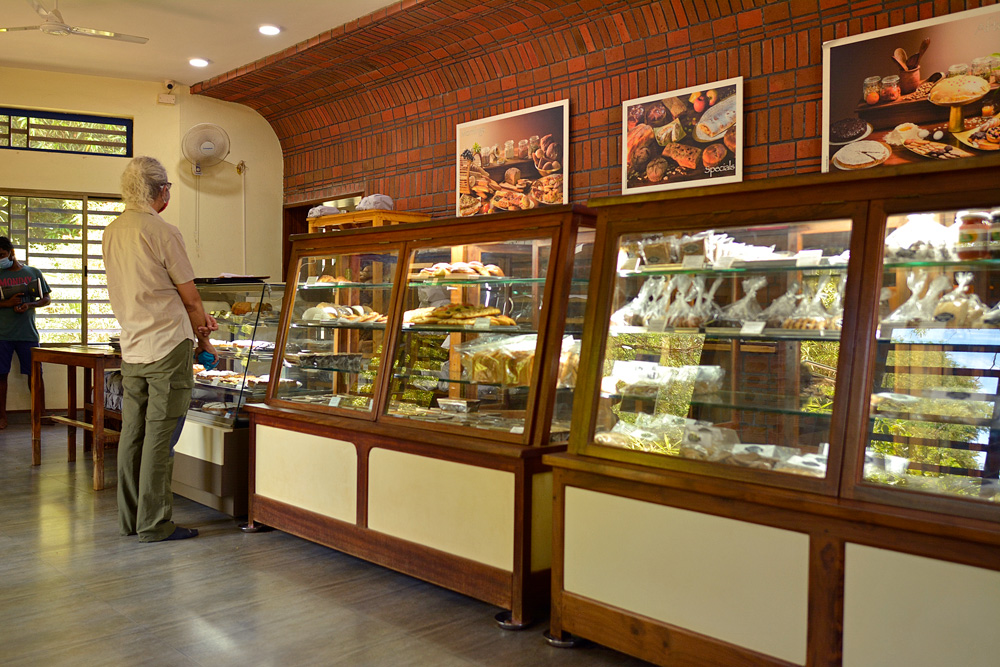 A Modern Café
The next step in the Auroville Bakery's evolution was the opening, in 2003, of a small cafe serving juice, tea and coffee. For a decade it remained that way, but with growing demand, that cafeteria was expanded in 2013 to create a large garden seating area and a new cafe kitchen.
At present, there is a variety of breakfast and lunch options, from idly to burgers and fries, and the cafeteria takes special pride in its simple but relishing coffee. "It took weeks of research and tasters to reach the ultimate one from Chennai!", says baker Elumalai.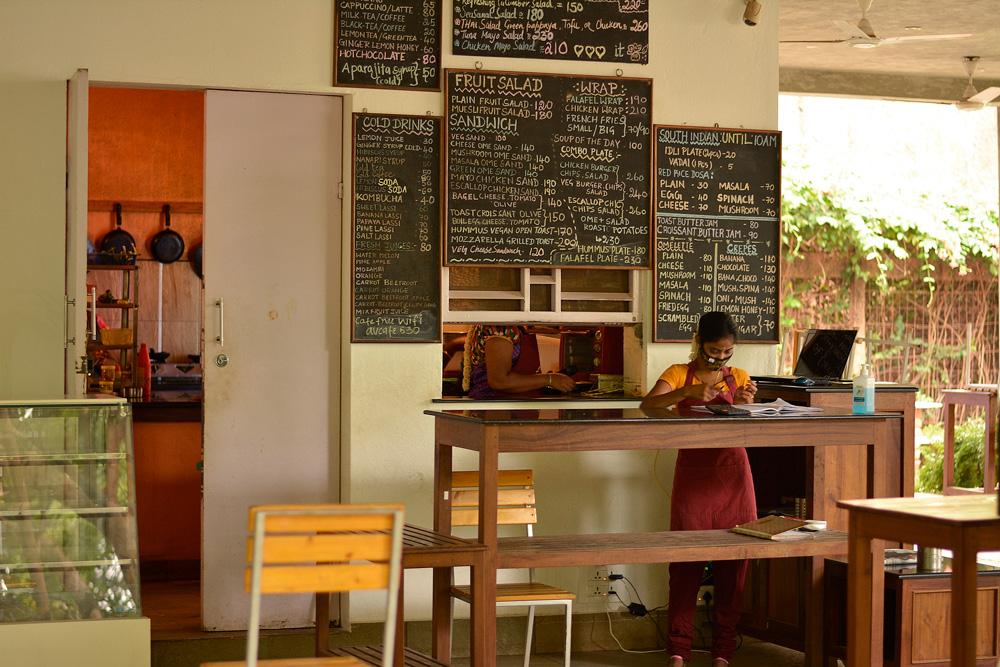 "To keep up variety, we keep experimenting and welcoming various natural flavours", he adds. "We aim to keep 90 percent of our items at an affordable price, such as our regular round pizza served during lunch time, which we call the 'hungry time pizza'. We are not all the time looking at profits.". Since 2017, many new cakes and cookies have been introduced, which are very popular with customers, such as the best-selling lemon cake.
Nowadays, work happens around the clock at the bakery. A team of four people is dedicated only to croissants. Just as the bakery closes at 5:30 pm, work begins on the next day's buns. At night, someone mixes the dough, and puts it in the ovens. Croissant preparation starts at 1 am to make sure the pastries are ready for early-morning customers.
Comparing the experience of working in Auroville to outside bakeries, such as those in Germany and France, Elumalai says that baking in Auroville is more relaxed. "In Europe it's all measured and digitalized. They calculate the temperature of the water. So definitely it's different. I have volunteered in a bakery outside, and there they work like a machine."
In the spirit of exploring new recipes, the bakery offers a list of more than 80 different types of cakes and cookies. When it comes to their signature touch, the team is keen on not just expanding the menu, but having trials, taste tests, and feedback on new offerings.
"We are planning to open an outlet at PTDC in the centre of Auroville", says Elumalai, "so that our products could be easily reachable to all. One day we might begin our own baking school, offering courses for people who are passionate about it. I look forward to passing on my knowledge, along with other experts at the bakery. The Auroville bakery has flourished under The Mother's guidance, and I strongly believe she will make the bakery's future dreams come true."
As for the pastries, Elumalai invites us to try them for ourselves: "You taste and let me know."
A variety of Auroville bakery products are available in the online store.