The sixth edition of the Auroville International Potters Market was held in the Auroville Visitors Centre between January 26th and 28th.
South India's Coromandel coast has long been known for its terracotta sacred idols and large horse statues adorning the land's many temples. Local excavations are continuing to unearth beautiful centuries-old funerary urns bearing witness to the historic refinement of south India's society.
In 1970, a Stanford-educated, Japanese-trained studio ceramist named Deborah Smith was drawn to Pondicherry's Sri Aurobindo Ashram, where she introduced glazed stoneware techniques from Japan. Her friend Ray Meeker, having studied architecture in addition to ceramics, complemented Deborah's skills with his expertise in building kilns (pottery furnaces) and residential domes.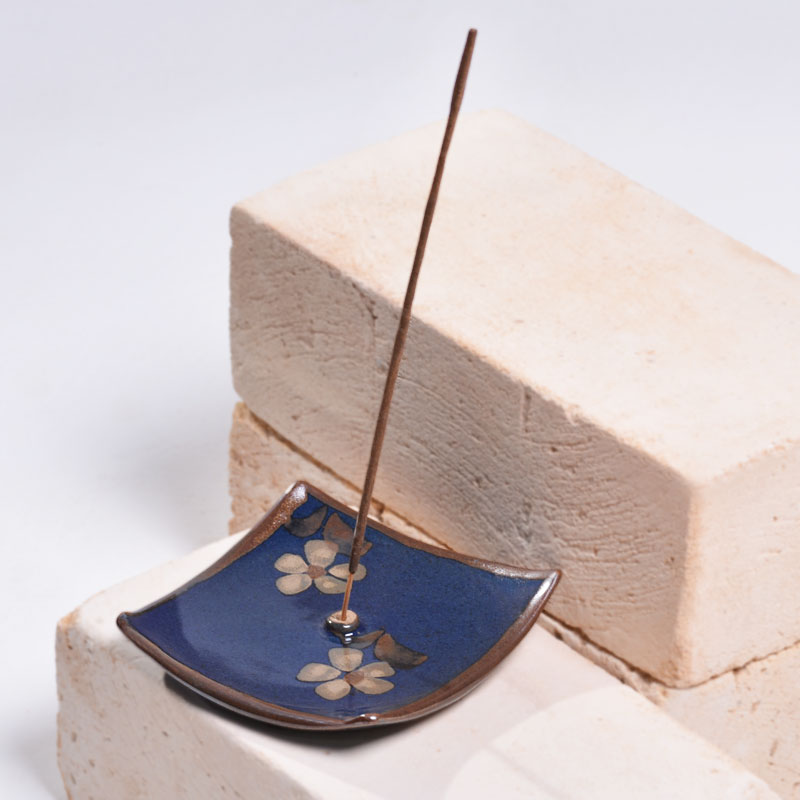 The following year, The Mother offered the duo a piece of land on the outskirts of Pondicherry to start their studio, whose name – Golden Bridge – came directly from Sri Aurobindo's epic poem, Savitri. With a ceramics display in the Ashram exhibition hall in 1974, the studio's reputation grew, and many potters soon came to stay for internships. "Pondicherry pottery" would come to be a general term synonymous with high quality ceramics.
Among many other visiting potters, in 1988 Golden Bridge Pottery hosted master potter Sardar Gurcharan Singh, who had trained in Japan, Korea and China, and had launched a ceramics renaissance in 1950's Delhi. Singh became a major influence on Pondicherry and Auroville potters, remaining a point of reference to this day.
Ray and Deborah's first student to take the art into Auroville was Angad Vohra, who, having apprenticed at Golden Bridge in 1975-79, began Shilpika studios in Auroville with Michel Hutin. Many smaller studios would follow.
Space to Breathe
Adil heads one of Auroville's largest pottery studios, Mandala Pottery – and has been doing ceramics for 25 years. A native of Bombay and a master's graduate in architecture from Houston, he came to Golden Bridge Pottery for a seven month course, and after 2½ years training, decided to move to Auroville, where he has been working at Mandala studio since 2001.
The same clay can become different types of ceramics, he explains. For centuries, the red clay present in Auroville has been fired at a low temperature to create terracotta, a clay which is useful for holding water and keeping it cool, as well as for creating the votive statuettes found in Tamil Nadu's temples.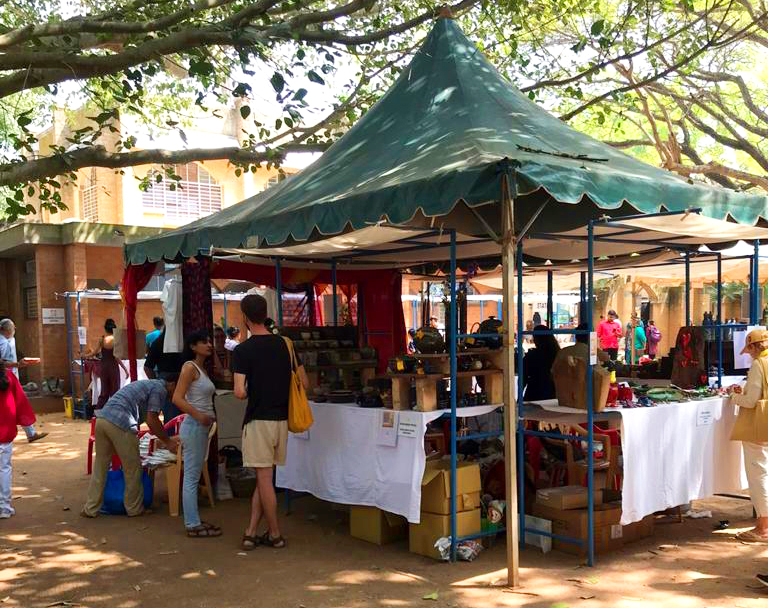 "Most Auroville artists create works of stoneware clay, requiring a higher firing temperature", he says, "Stoneware is called so because it supposedly gets as hard as stone. It is not porous and doesn't leak." Adil enjoys making both functional tableware, and sculptural work which is sold at art exhibitions. He also creates murals and large canvases with unfired clay, a technique he's developed over the past 10 years.
"It's a blessing to be in Auroville", he says. "The first thing that most artists notice, whether they come here from around the world or elsewhere in the country, is the amount of space we have. You can actually breathe here, we are not stuck in a small room in a city."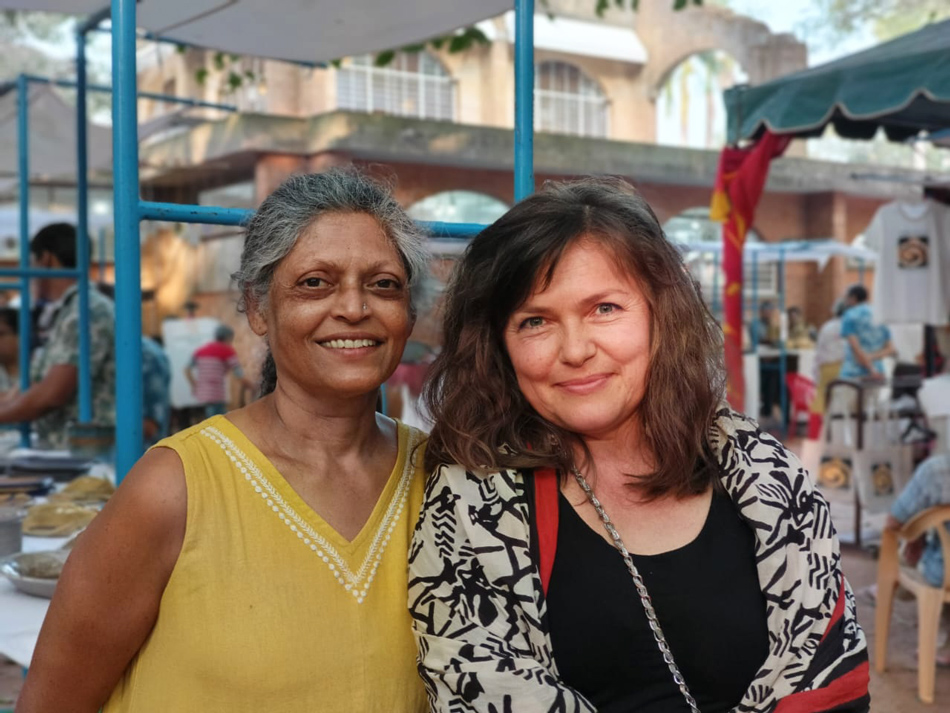 Staying in touch with the process
Working at one of South India's busiest handmade ceramic studios, Adil is keenly aware of the importance of keeping things small: "You have ceramic industries churning out machine-made tableware. In our studio, everything is done by hand; we make our own clays and glazes instead of buying them from outside.
"With the flow of orders coming in, one can very easily expand the studio and become bigger – but then you would lose touch with the clay and start playing manager. I still want to be in touch with what I'm making. We are a group of 9, and don't want to get bigger than that. It's a conscious effort to stay small."
The Striving for Perfection
"Art, as we endeavour towards perfection, is one with religion, and this fact is better recognized in the East. Perfection is more like the state prior to the expulsion from the Garden of Eden than the mere opposite to imperfection."

Bernard Leach, British studio potter
The sense of the sacred, present throughout India, is a major inspiration for Sabrina, who has assisted in organizing the Auroville International Potters Market since its first edition, and currently creates and teaches pottery at Kalabhumi.
A native of Chennai, Sabrina has been doing pottery since age 8, and came to Auroville on several school trips through high school. Here she had the chance to be inspired by and gain experience from different Auroville units. When a potter at Solitude Farm asked for volunteers to try the wheel, her hand went up: "That was the pivotal moment, and at 16, I knew I wanted to live in Auroville."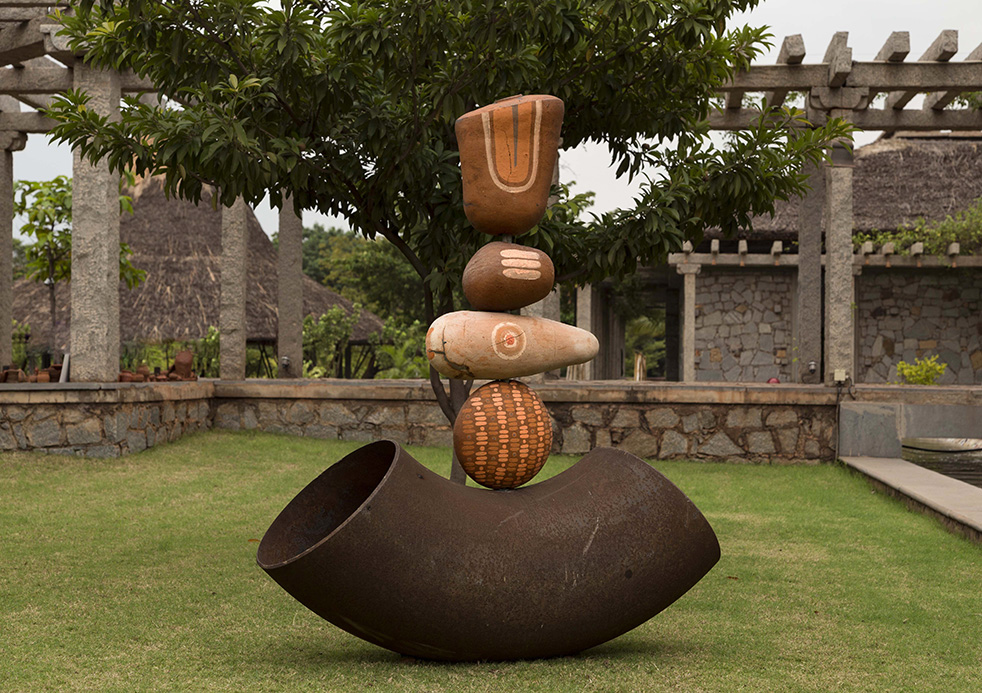 Since coming here in 2013, she notices a difference in the sense of time: "In the city, it's like you're living in one dimension, on the surface level of schedules, traffic, work or college. It's easy to become anonymous. Once you've done your work day you go back home to your own space, and it's easy to push things under the carpet.
"In Auroville there is another dimension that comes into play. There is more pressure here to do inner work on an everyday level. If an issue comes up you have to address it, because it will keep coming back at you with much more force than it would in the city. The beauty of Auroville is, avenues open up at certain points, the tools become available to you when you are ready or open to them."
Sabrina is fascinated with geology, which provides a different lens to look at the work: "There's a force and a dynamism behind earth formation. Plates shift, rocks get pushed up and it's quite violent. Clay is formed over years and years of erosion when particles get deposited in lakes.
"We don't sense it in our normal human lifespan, but I find it amazing that we are compressing millions of years of earth formation into a 15 hour firing – taking it from raw clay to a vitrified glazed pot. There's a little bit of alchemy to that."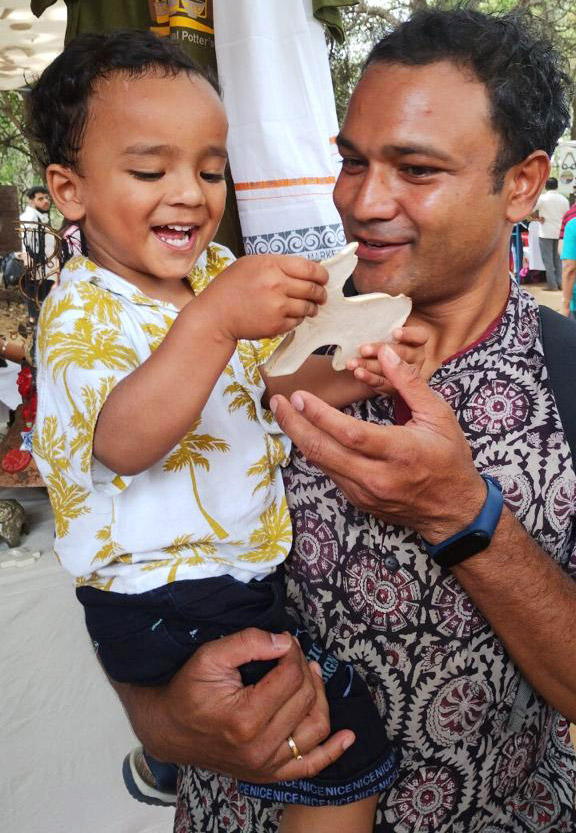 Gift from the Fire
Supriya is the curator of 'Clay in Touch', a group exhibition of 41 ceramists' artistic creations which took place as part of the Potters Market on the first floor of the Visitors Centre. The exhibition brought together artists working in earthenware, stoneware and porcelain, and employing a range of techniques.
After losing her studio in the 2004 Indian Ocean earthquake and tsunami, she embarked on the path of ikebana – Japanese flower arrangements. Studying in Japan, she received a gago (art name): Kairen, meaning 'gentle harmony'.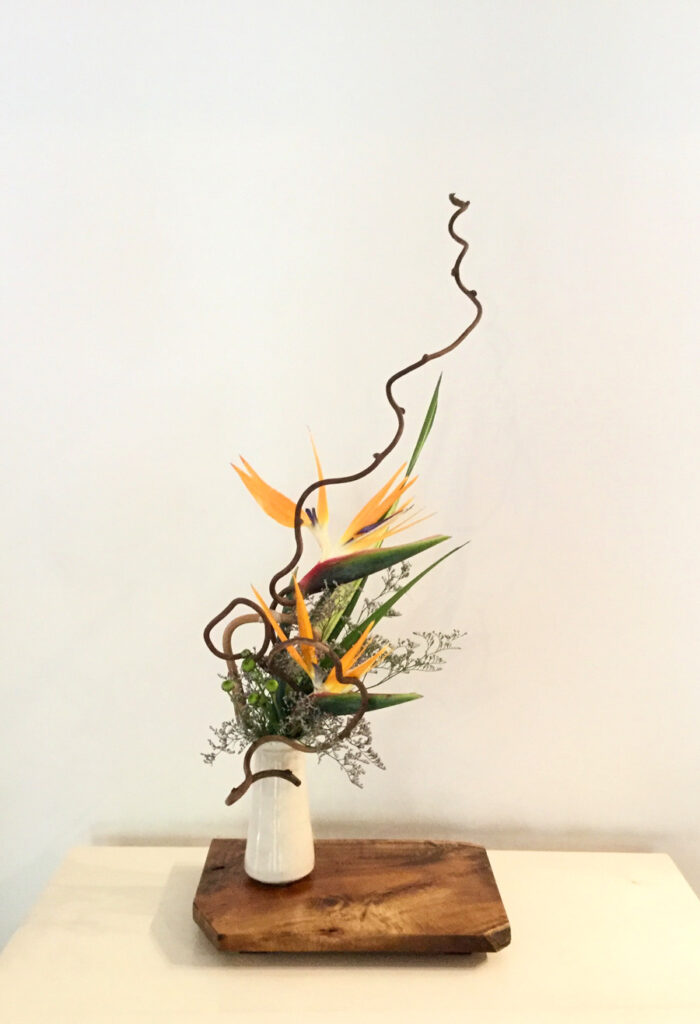 She tries to combine Golden Bridge's planned approach, with a more spontaneous one she learned from Japanese-trained UK ceramic sculptor Sandy Brown, on a Charles Wallace India Trust scholarship. "One is one's own mystery," she says. "The form happens, and then I try to work on it consciously to finish it."
Once or twice a year, she uses a traditional Japanese Anagama ('cave') kiln to fire up her pottery. This technique, where works are kept in the fire for 70 hours, is new to India and is a team effort, requiring people to attend to the kiln around the clock. The result is high quality stoneware.
"Every piece of work is a gift from the fire. The fire completes the work – it can make it or break it. It also signifies purity."