The original version of this post was written by our guest contributor, Uttara Jadeja. The post is updated regularly.
Auroville has many small-town charms, ones that can't be enjoyed in just a short day. Tourists often breeze through the city, only taking a quick look at the main sights. However, with many things to do and see, Auroville deserves more than just a passing glance. Here is a non-exhaustive list of things one can do in Auroville, including the most well-known landmarks.
Want to stay the night in Auroville? We highly recommend that you stay in Auroville Guesthouses, as it will give you access to community places and eateries that are off-limits to visitors who are registered outside. We do this to reduce footfall and make sure that these places can also still be enjoyed by Aurovilians – even in the peak season of November-March.
Want to have a full overview of everything there is to do in Auroville? Get a copy of the Auroville Handbook.
Please note: Due to the Coronavirus pandemic, some activities are currently not available. These are marked as 'currently closed.'
Start at the Visitor's Centre
The Visitor's Centre, true to its name, is your entry point into Auroville: there is a small exhibition and you can watch a short introductory video. The Centre has some small cafes with incredible coffee, baked goods, and artisan ice cream, plus two restaurants that strive to serve Indian and foreign palates. The two main boutiques only sell items made in Auroville, but there is more: Aval brings you beautiful handicrafts from women in the bioregion, while the Upcycling Studio gives you a taste of how we can turn waste into beauty. One can easily spend half a day just here.
Visit the Matrimandir – currently closed
Visiting passes to the Matrimandir are available for free, and must be booked at least a day in advance. The structure is spiritually significant, and is a must-see when visiting Auroville. Try to book the (free) tour at the Visitor's Centre, where Aurovilians will guide you around and tell you all you need to know. Check out the official page of the Matrimandir, as it gives the most up-to-date information on how and when to visit.
See the Exhibits at Savitri Bhavan
Savitri Bhavan is located in the International Zone of Auroville, between Bharat Nivas and Matrimandir. It has been created to be a focal point for Sri Aurobindo studies in Auroville, taking Savitri, his revelatory epic poem, as a starting point for exploring his other writings. The complex also contains a statue of Sri Aurobindo and has a large gallery with many interesting pieces and often changing exhibitions.
Solitude Farm
Interested to see one of Auroville's farms and get your hands dirty? Solitude Farm was started in 1996, and inbibes the philosophy of having a connection with where our food comes from. Being a permaculture farm, they put a special emphasis on growing local and indigenous food. You can eat at the Solitude Farm restaurant, which uses the produce of the farm to make localicious food that's healthy and delicious. They have a volunteer program where you can spend the mornings working at the farm and they hold a number of workshops about permaculture and farming. Check out their website to see how you can contribute to their vision of creating a healthy relationship between people, their food and the environment. A great place to just visit too and enjoy some great local food!
Mason & Co Factory Tour – currently closed
If you're a chocolate lover, like many of us are, you will definitely want to go visit Mason & Co. They work with organic farms to produce vegan bean-to-bar chocolate in a range of delicious flavours. They offer a tour – after booking only!- of their factory so you can get up close and personal with the delightful process of making handcrafted chocolate bars. You can check out their website here and keep a heads up for any chocolate-making workshops as well!
And if you'd like to eat some delectable pastries and confections made with their chocolate, do give Bread & Chocolate a visit! It's the perfect place to have artisanal breakfasts and lunches.
Kallialay Surf School
As coastal towns, it's no surprise that a surf culture has emerged in Auroville and Pondicherry over the past decade. This is in large part because of Kallialay Surf School. Started by three Aurovilian youngsters, two of them brothers, who have had a passion for surfing since they were kids. Juan, Samai and a team of surf instructors now teach this amazing sport to whoever is interested. They have made space for this fun activity right here at Serenity Beach. Contact them if you'd like a lesson that is almost sure to get you standing up on a board on the first day: kallialay@gmail.com or +91 9442992874.
African Pavilion
The African Pavilion's vision is to be the bridge between Africa and Auroville. They host cultural programs that include workshops, performances and events to acquaint Auroville and India with African culture and philosophy. They have opportunities to volunteer: garden, build together or simply enjoy one of their workshops. The food is phenomenal so visiting for lunch is definitely recommended. On Thursdays, African Pavilion hosts a Drum Circle around a fire that is very powerful and thoroughly enjoyed by kids and adults alike. Check out their website here.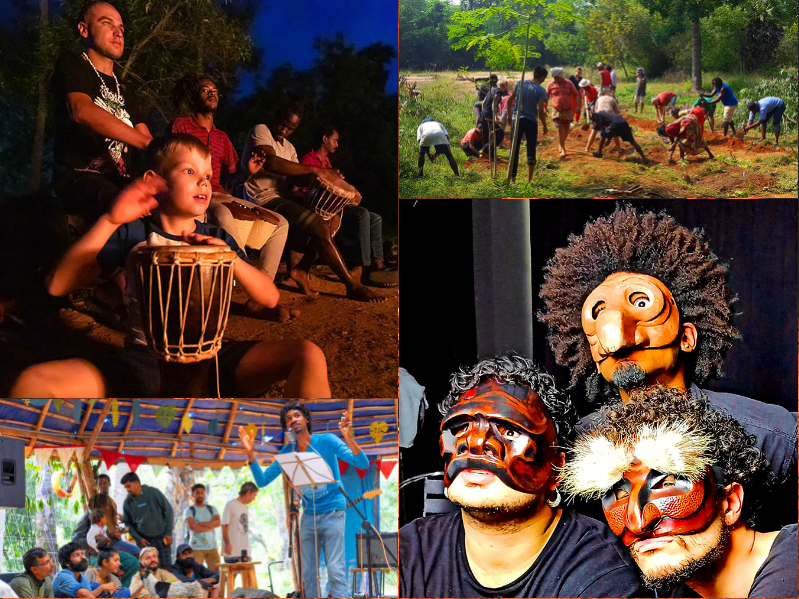 Check out the Photo Exhibitions at Bharat Nivas – currently closed
In the Bharat Nivas complex – which also houses the Sri Aurobindo auditorium and several halls for dance and arts – is the Kala Kendra Centre for the Visual Arts. Here, you can find three permanent photographic exhibitions:
History of Bharat Nivas, as envisioned by the Mother
The Mother in Pictures.
The Dawn of Auroville, a series of black and white photographs with rare archival texts as to how Auroville was founded
Two other gallery spaces in the Centre host work from Aurovilians and visiting artists.
Enjoy the Sounds of Svaram
Svaram is a place where musical instruments are made from scratch and is a musician's and music lover's dream. You can peek in at their workshop and visit their shop, but the most exciting part of the Svaram campus is their Sound Garden, a collection of big, outdoors musical instruments that you can play around with.
Relax at the Beach
There are many great entry-spots from where tourists can access the coastline to gaze upon the waters of the Indian Ocean. One of the most popular spots is Tanto's Far Beach, which is open until 6:30pm. Guests of the Far Beach Guesthouse and customers of the restaurant can use their parking lot and beach access. For an extra fee, you can make use of the pool so that you can also safely enjoy some water fun with your young ones, while catching an ocean breeze.
Learn at the Auroville Botanical Gardens
The AV Botanical Gardens are some of the largest and most flourishing in the region and are well worth the visit, as one can see hundreds of types of plant species. There is even a hedge maze for those who are looking for adventure. From November-March, there are regular walking tours that can give you a lot of background information on the different gardens and species you can find here. See their website for timings.
Eat at Solar Kitchen – Or Anywhere Else
You can book a lunch at Solar Kitchen, our community canteen, if you have an Aurocard – which you can get only while you are registered in an Auroville Guesthouse. If that is not the case, don't worry! Within Auroville there are many small eateries and cafes that are open to all and reflect our diversity – from dosai and dahls to sushi, falafel and salads. Try the farm-to-plate food at Solitude Farm – which might include edible flowers or cooked banana stem, depending on the season. For a lovely garden meal, visit the beautiful Naturellement, and if you want to go really fancy – our favourite is the quinoa bowl with poached eggs – try Bread & Chocolate, located just down the road in Kuilapalayam.
Enjoy your time in Auroville!
Pictures © Auroville Outreach Media.