Among Auroville's artistic units we have Goliath Studio, the first place in Auroville where you can get safe and hygienic custom-made tattoos. Started by young Aurovilians Aurrimā and Victor, we spoke to Aurrimā about how it all started.
Meaningful Art
Aurrimā was just a baby when her parents decided to leave Auroville for a period of time. "I spent my childhood around the globe, we kept moving. I was mainly in Africa for about 14 years. At the age of 16, I came back to Auroville and did my baccalaureate at the Lycée Français in Pondicherry. Then I moved to Paris, where I joined an Art School."
Aurrimā didn't get into tattooing from the get-go – she was interested in other fields of art at first. "I was always into art but I didn't know exactly what I could do with it, there weren't many career opportunities other than being an illustrator, and it is hard to earn money in this domain. I was introduced to graphic design in Paris and that's when I saw something that could be interesting for me. At that time, it was very unknown to me because I grew up in Africa. There was not much advertising there so I wasn't in that cultural environment, and European graphic design was foreign to me. But it was interesting because it was creation at the service of someone or something. After doing my Master's in Graphic Design, I decided to come back to Auroville, and have been living here for the past 8 years."
Of course, everything gets repetitive after a while, and Aurrimā wanted to try something new. "I was bored of graphic design, because it has this impersonal side to it. I always liked tattoos but I didn't know much about it. Then I met my now ex-partner and he had a bunch of them. He had started learning how to make tattoos on his own. I thought it was fascinating because it was really a way of applying art and creativity to the body. It had its own culture and its own world." Tattoos are also highly personal, exactly the touch Aurrimā was missing in her graphic design work. "What makes it interesting for me is what you can do with it, and what it means to someone."
Aside from being a form of artistic expression, Aurrimā explains that there's more to tattooing than just that. "Tattooing is very personal and can be very therapeutic, it's a way of re-appropriating your own body for example. I liked the idea of being part of a symbolic moment for someone. Working together with your client very personally to make something together felt very humane and this appealed to me."
Changing the Misconceptions Around Tattoos
So how was the process of learning tattooing for Aurrimā? "I started by tattooing my ex-boyfriends [laughs]. I also worked on friends who were the canvas of other inspiring artists, so I was mostly touching up old first tattoos that they had gotten. But I'm very academic, so I wanted to get proper training through a process, so I went to Chennai to train with Irezumi Studio to learn more professionally."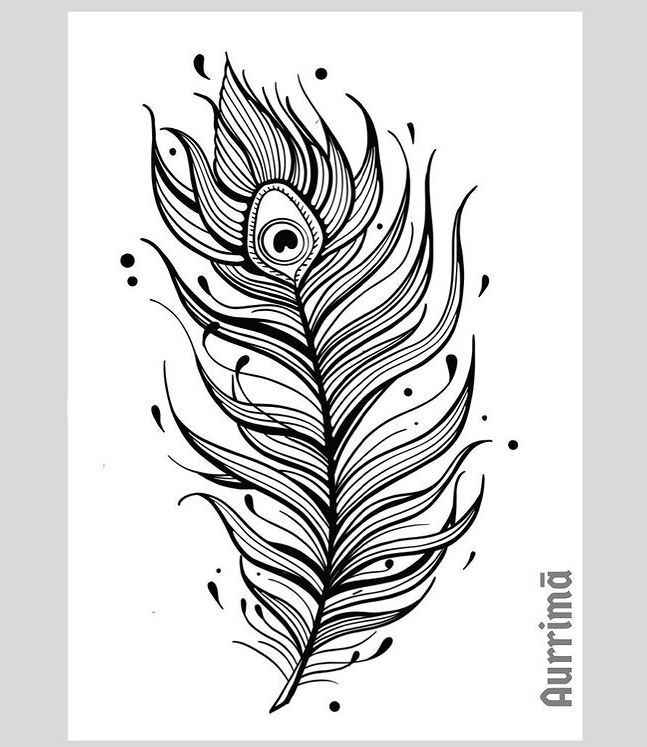 Now that she was trained in tattoo, the next step was to offer her skill to the community. "I wanted to open a studio where my partner and I could provide a conscious, safe and creative environment. I realized once I looked around, there weren't many reliable places to get tattoos, with good standards of hygiene and where you could get custom made-tattoos. There were many Aurovilians who had to go either to Chennai or Bangalore to get safe custom-made tattoos. So I thought that it would be interesting to do this here in Auroville. "
However, it wasn't without hurdles. Tattooing still hasn't been fully accepted around the world, and in Auroville, there was also a hesitation. "At first, it was a little bit difficult to get people to accept the idea of a tattoo studio here in Auroville. Not so long ago, tattooing became very mainstream, and it happened very fast. I can understand that in the West it was a fast change to see tattooing as an art, but here, where things can go very slowly, there are still old stereotypes surrounding tattoos in Auroville. But people were getting tattooed here anyway, so why not offer a safe environment with high standards of hygiene? "
There was still this sense of mistrust when Aurrimā wanted to open the studio, the quality of the work and the kind of imagery they were going to use. "The misconception around tattooing is that tattoos are only for people who have gone to jail, or that it's associated with violence and gangs. This is just not relevant today, and definitely not what my studio is about. Tattooing has really become a new form of art, with progress made in the technologies used. What you can do now in terms of finesse and artistry is truly beautiful. It needs to be seen as a form of art, and not in affiliation with all the negative connotations it had in the past."
Being Conscious about Inking
Goliath Studio is appointment-based which means that Aurrimā meets with the client first to get an idea of the tattoo before designing and inking it. "When I tattoo someone, I have a meeting where they can tell me what they visually would like to express, if it's a memory or an emotion or something else, and also what they don't want, and why. It's an idea that can evolve over time. It can be challenging because often it's a process with people I have never met before, and then I have to create something with them that matches what they have in mind. I can't read minds yet, so I try to gather as much information as possible and this is where my Masters in Global Design and 8 years as a graphic designer are a huge advantage for me."
This also means, sometimes, being brutally honest: "I feel like for the youth, if they have a really terrible idea for a tattoo, I tell them very frankly that they are going to regret it or I downright refuse to tattoo them. I also take the liberty not to tattoo anything which I find offensive, racist, sexist, or discriminatory in any way. I've seen that in some studios, they really don't care about what you are getting tattooed, because they are getting paid you can get anything you want. And that's something I wanted to avoid. I want to be more conscious about it."
And of course, Aurrimā shares that there is a pressure when it comes to inking someone. "It's a lot of stress. I'm quite a perfectionist and I can't stand the idea of making a mistake on someone and because I am still relatively new to this form of art, I always do tattoos that I know I can do. "
Aurrimā works alone for now, but eventually she wishes to do more with tattoo in Auroville and outside. "I started Goliath Studio with my ex-partner, but I am managing it myself now. I would like to partner up with other artists who have different styles, and be able to train other people.Tattooing is a great job for someone who is creative, meticulous and disciplined, if you are talented, you can work in any country. So in the future I would like a team where we can share ideas and motivation. That said, I do like the intimacy of it at the moment… For now, our studio is very cosy but maybe one day we can expand it."
---
Are you curious about this work?
Have a look at Aurrimā's Instagram Tattoo Page, and Goliath Studio's Instagram.