The Supreme's gaze looked out through human eyes
And saw all things and creatures as itself...
        - Sri Aurobindo, Savitri

Between January 18th and February 1st, 2023, Savitri Bhavan hosted the photo exhibition Eyes That See, bringing together the works of 15 photographers. The exhibition was curated by Anandi Zhang and Silky Arora, bringing together Anandi's dream of honouring the eyes, and Silky's interest in disseminating to a wider audience soulful artwork from Auroville.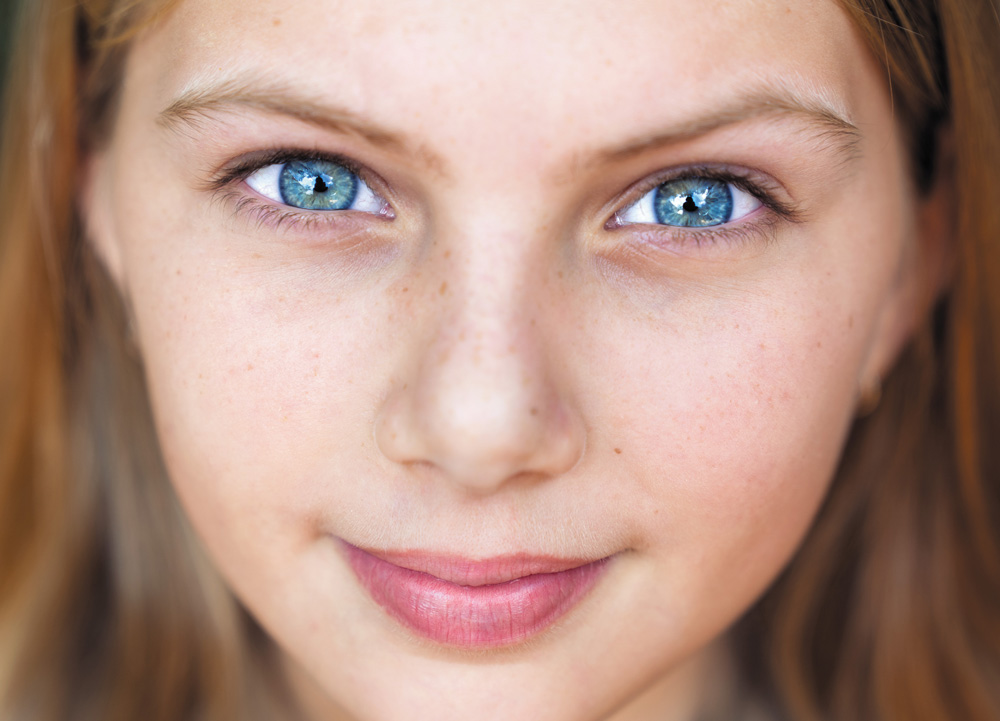 Anandi speaks about her inspiration: "I have always been fascinated by the eyes. People say that eyes are the windows of the soul. Normally, children's eyes are shining, and when you grow up, you have more emotions, thoughts, worries, burdens of life – and your eyes get somehow dimmed, covered up. In university I had a very good friend, and we were happy to find that there is still some light in each other's eyes."
Landing in Bombay, Anandi was excited to discover the great diversity of eyes in India. She found Indian people's eyes big and soulful, and was fascinated with the joy and light in them: "For me, eye contact is the essential way, when verbal communication seems inadequate."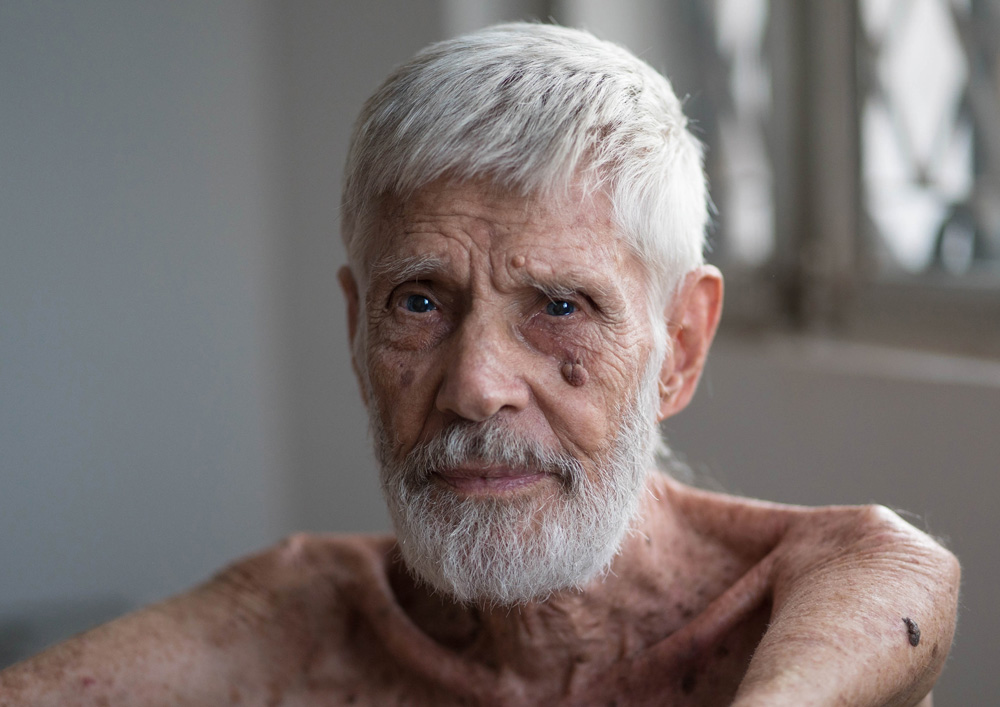 With four years of experience working for Auroville's Art for Land, Silky is interested in art going out of Auroville and having an impact: "Every year I've seen such beautiful artworks being brought into Auroville with gratitude by artists. After the exhibition, they would be packed away. The idea of traveling exhibitions came to me: If the art travels around and outside Auroville, it can have much bigger ripples."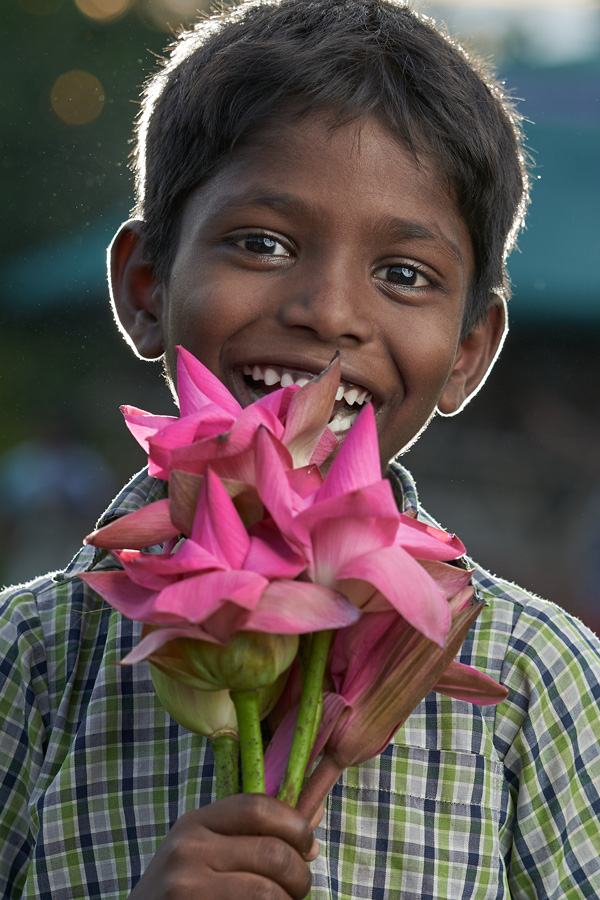 The name, Eyes That See, came from a previous poem by Anandi, inspired by the pain and experience of separation. The intention was to bring together deeply touching images from Auroville, centered on the eyes.
The exhibition was inaugurated with a flower arrangement and a silent meditation, as well as music from Nadaka and a recitation of Sri Aurobindo's poems by Malcolm.
All photographers are Aurovilians, except for Henri Cartier-Bresson, the famous French cameraman who documented Sri Aurobindo and The Mother in Pondicherry in 1950. Besides the pair of spiritual masters, subjects were shot in Auroville from the 60s until the present day.
Anandi and Silky were surprised to discover a similar intention from Auroville photographer Vimal, who also concentrated on the eyes. Vimal took photos of Bioregion (local) kids at an outreach school, including a brother and sister duo along with another photo of a young woman expressing both joy and resilience.
In the middle of the exhibition, one notices the striking photos from Auroville artist Alessandra of two Indian women, young and old, holding the same crystal ball. These are part of a larger series of images including boys, men and women carrying the same item.
To make the exhibition an interactive affair, two sets of chairs face each other, where viewers are invited to sit and gaze into one another's eyes for 1-5 minutes. One day, a group of school children visited the exhibition, and they found the eye gazing interaction most interesting. "For them it takes only a second to immerse", says Anandi: "The mind is silenced very quickly. Their concentration was amazing."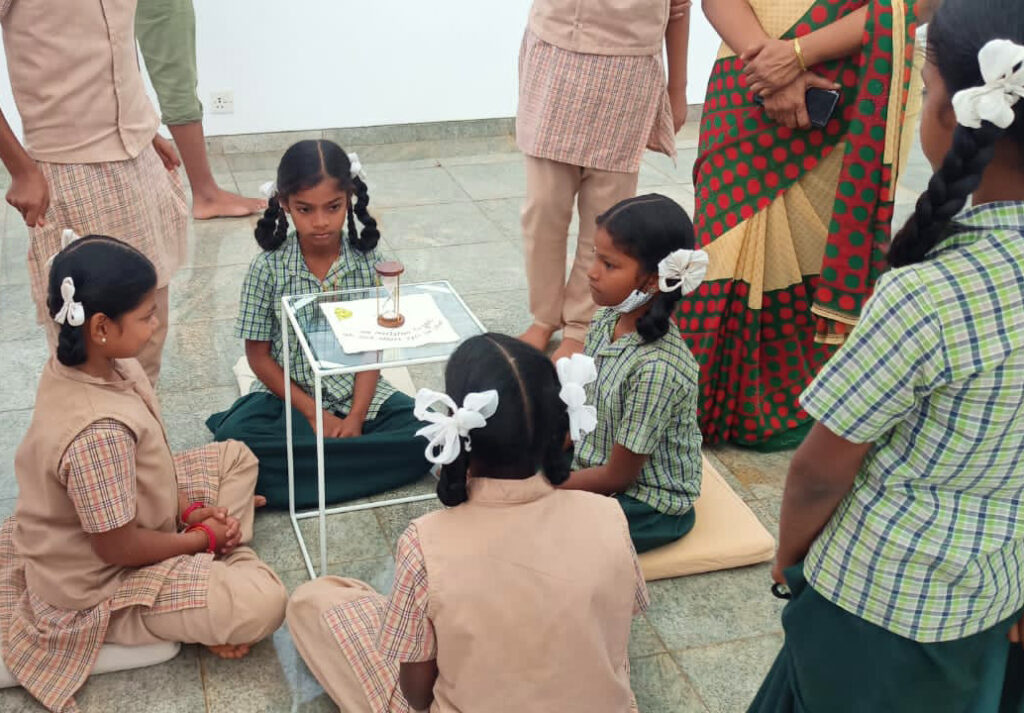 Another installation has a curtain, behind which one discovers a mirror and is faced with their own face. Silky comments: "I observed that my eyes change on a day to day basis. It's a reflection of who I am that day, and it's a good practice to look at our eyes and see what's happening."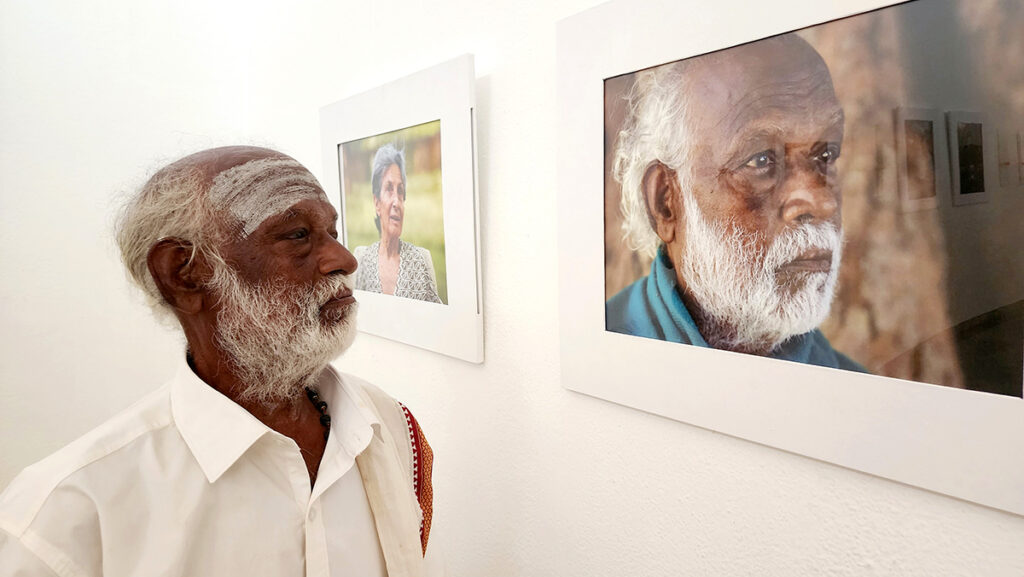 Silky and Anandi recall a few special moments during the exhibition. "It's a joy when people come in and recognize themselves or their friends", says Silky. One such occasion was when Mr. C. Elumalai, lead actor for the Tamil film Iniyan about a descendant of the earliest civilization in the Tamil lands, came and examined his own photo on the day of inauguration.
After the installation at Auroville's Savitri Bhavan, the exhibition went on display at the nearby Pondicherry University for another two weeks, on the occasion of the inauguration of a new film club. Anandi suggests that within Auroville, residential communities and workplaces could be suitable sites for display, while outside there may be interest from Sri Aurobindo centers and AVI centers around the world.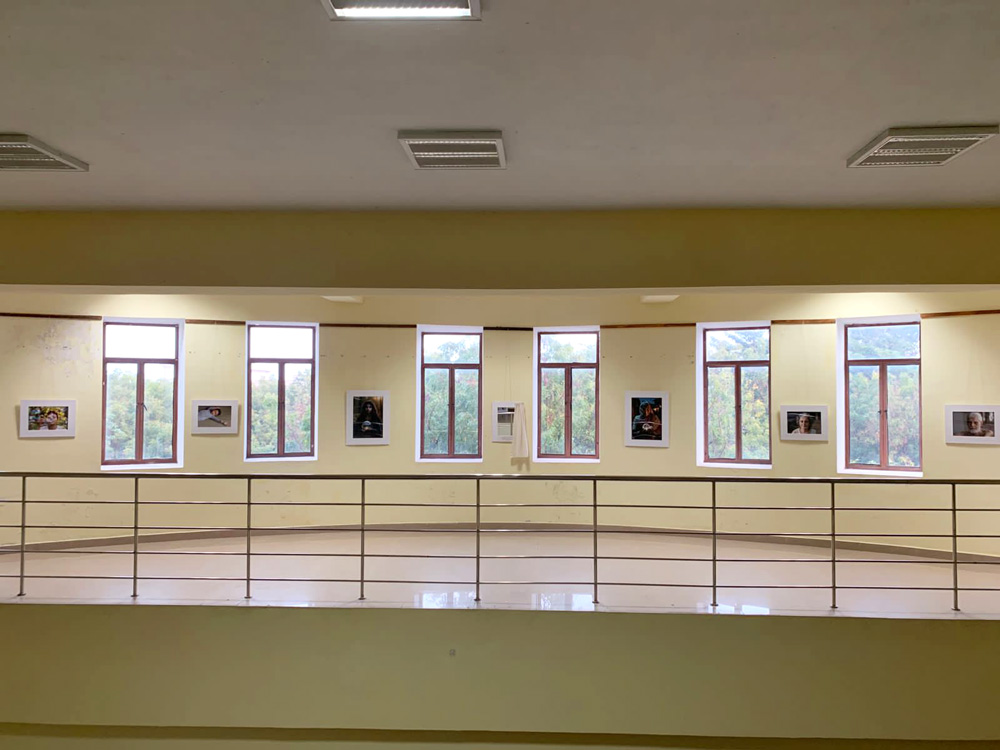 Curation was a meaningful experience for Anandi and Silky. In Silky's words: "What I have experienced in the exhibition space is expansive, as if all eyes have come alive and are present with me. It is a journey Anandi and I took together for a deep immersion into our own selves."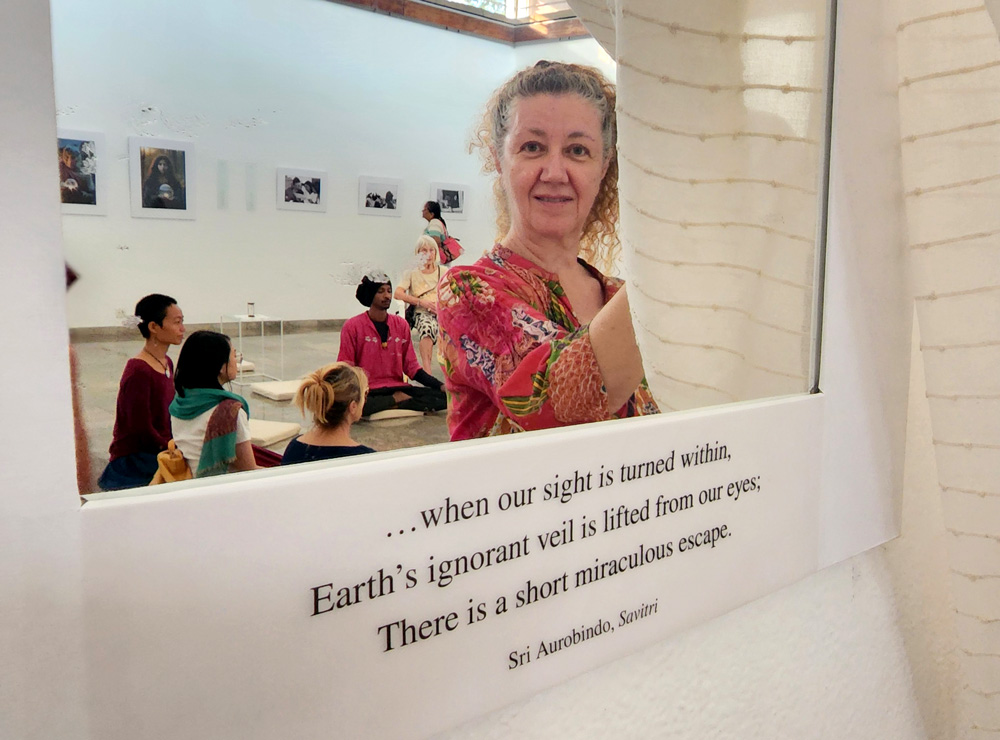 The curators invite the public to contribute photos of immersive, soulful eyes and gazes. If you have artwork to submit, or would like to invite the exhibition on behalf of a venue, you are welcome to leave your email address in the comments below.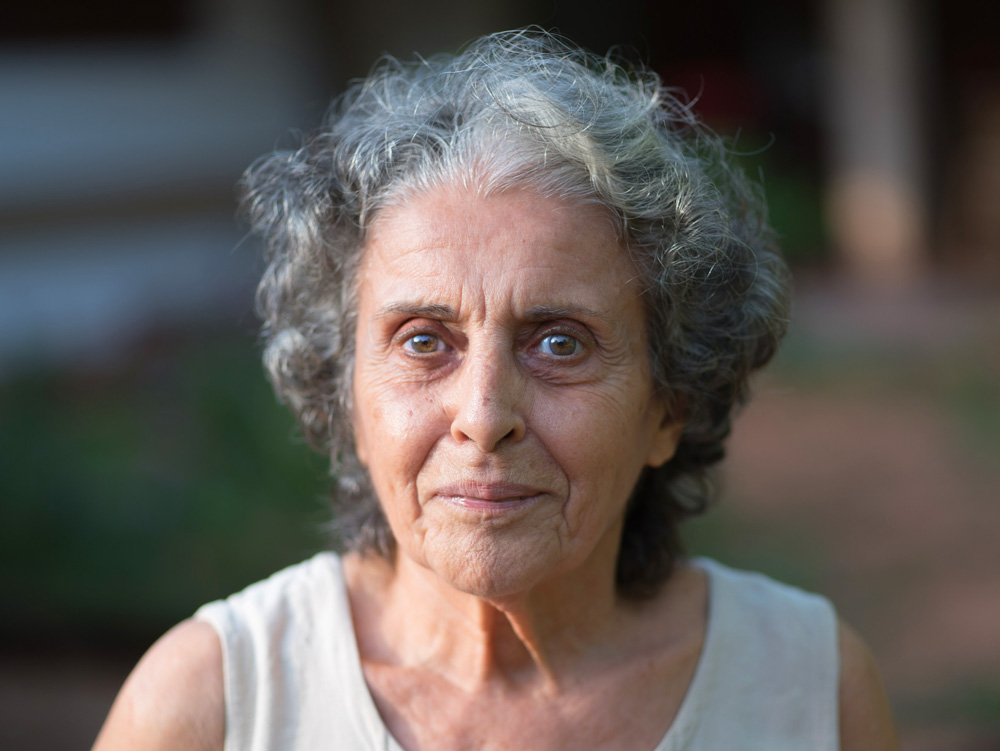 Header photo by Roger Toll. We thank all photographers for their contributions.