While we normally don't blog about the news of the day, we thought to make an exception for the current COVID-19 situation. India is in a second wave of COVID-19 infections, one that has taken everyone by surprise and seems more massive than what has been recorded elsewhere in the world. News outlets report a frightening picture that keeps our phones ringing as concerned people seek news about how we are doing here.
It's true – we are having a different experience in this stronger, second wave, but rest assured, we are not nearly as badly hit as the big cities. Since the 10th of May, we are back in lockdown. To give an update on what is going on in Auroville these days, we spoke to Chali, who is involved with the pandemic effort as a member of the Working Committee.
A Different Experience
Until now, we have been very resilient when it comes to COVID-19. During the first wave one year ago, there were some 20-odd people who tested positive, but they were all asymptomatic or very mildly symptomatic. That's all different during the second wave, Chali says: "This time it came on really fast and almost everybody has symptoms this time. Some people are really unwell. And the number of cases is much higher – there were 3 days where we had 16 new cases come up and more than a hundred people in quarantine. That was almost overwhelming for the team here."
It came so fast probably because we had such a remarkably good experience during the first wave, with no serious cases or deaths; we picked up normal life again. Offices re-opened and projects restarted. While some spent their time debating whether the virus was even real, most people just continued life as before – real or not, we seemed somehow protected from the worst of it, and could restart business as usual. "When all of this hit us, there were gatherings and meetings everywhere, hardly anybody was wearing masks anymore. We became a bit complacent."
In a way though, we might be better prepared this time around, according to Chali: "Last time it took everybody by surprise, we had to figure everything out from scratch and hope that we were doing the right thing. We had to put in place systems based on a lot of uncertainty about the virus itself. In that sense we are better prepared now. We also have experience with the whole process of contact-tracing and quarantine, and we know better what the virus is and what protocols we need to follow to avoid spreading it."
Support Available
What is also quite different from last year is that at the time, Auroville was seen as a threat to the region because of the international aspect of the township. "Back then the authorities came down on us quite heavily – they asked for so much data from us, on residents, guests, guesthouses… it was insane. They were so convinced that the explosion was going to be here. And in the end, in all those months, we only had 20 cases, so at one point they were impressed." Now, the coordination with the Indian government authorities is very smooth: "The Block Medical Officer, he is a super nice guy, very approachable and open. He has always been helpful and supportive. The District Superintendent of Police also, he is great in this and other situations. In that sense we are lucky."
Because there is a relationship of trust with these authorities, a lot of things can now be done inside Aurovillle. Where last time the threat of being brought to a government-run COVID-19 facility was hanging over the community, this time it is clear that we can quarantine at home or in the COVID-19 facility in Bharat Nivas. "We also want to upgrade that facility in Bharat Nivas so that people who are not doing well can stay there and be taken care of. That includes providing nursing help and oxygen when needed. We have Aurovilians who are certified medical professionals, including a great Ambulance Team, and we have good contacts with the local hospitals and doctors. Although there will be times when hospitalization will be needed, there is a lot we can do here and it's better for everyone, because the medical resources out there are strained."
There is also medical monitoring for those who have tested positive. Oxygen, blood pressure, and temperature are taken by the affected person and reviewed by a medical professional regularly, and there is a doctor on call 24/7 for those who are sick. This at-home monitoring ensures that when a situation becomes risky, action can be taken immediately. However, while this approach works in most cases and many recover at home, we cannot avoid the disease having an impact on the Auroville family – as of writing, two Aurovilians have left their body due to complications arising from COVID-19.
Faith While Acting
As with most topics in Auroville, we don't all agree on what is the best way to respond to the situation. While there is the reality of the pandemic, there are also the words of Sri Aurobindo and The Mother, who note several times in their writings that disease often comes from fear. In responding to the COVID-19 pandemic, the Working Committee and others have had to deal with criticism around this: "When we send out information, we are sometimes told we shouldn't perpetuate fear. For me it's not about fear, it's about doing what we can, and then of course, knowing and having faith that it's all with Them. I have never believed that this yoga or spirituality in general is about passively sitting back and saying 'Mother will take care of everything; I don't have to do any effort.' We have to do a lot of effort also, but with that faith. That's my approach."
A similar discussion arose around vaccinations – at one point Mother and Sri Aurobindo were quite strongly against vaccinations forced upon the Ashram by the government. In the community, both extremes are represented: those who are strongly against vaccination, and those who would like to have a vaccination camp set up in Auroville itself. "I don't have a strong opinion one way or the other, it is everybody's choice. But if we set it up here, there is concern that if someone reacts badly, there is a responsibility, and to find medical people here willing to take that on isn't so simple. The other thing is, for some people there is a spiritual or occult issue, where they point to what the Mother and Sri Aurobindo have said about vaccination, which is quite strong."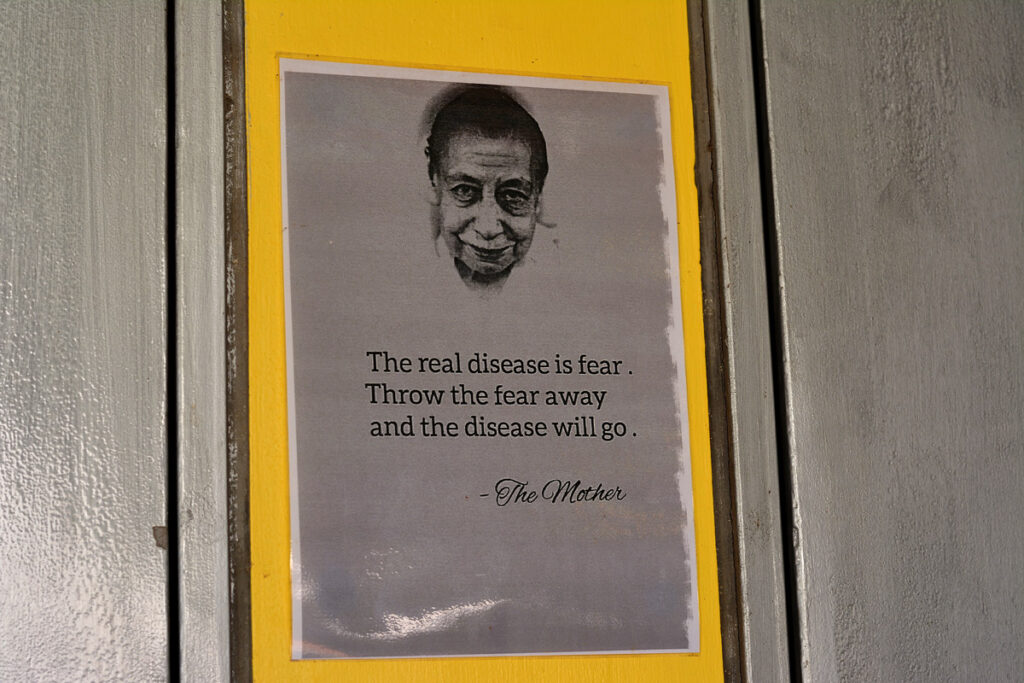 That doesn't mean people cannot get vaccinated – it's a matter of making an appointment online and going to one of the centres in Pondicherry. Until now that process has been smooth and vaccines are readily available: "We let people make the choice, we give them the information so that they can easily get it. But considering everything, it's quite a big step to bring it into Auroville, so we are not doing that at this time."
No Crystal Ball
While we can't say how long the current lockdown will last, it is not a stretch to expect it will last beyond May 31st, which is the current end date. In the meantime, we try to sit out the summer heat, working from home where possible. We can be grateful to the Working Committee, the Santé Coordination Team, the Ambulance Team, and many volunteers from the community who are working around the clock to make sure people are taken care of. Chali appreciates the team and the way they have been working together, and is especially grateful that places like Bharat Nivas and Centre Guest House are providing places for people to safely quarantine. "It's one of those situations that brings out the best and the worst in people, but also one of the times where I really feel we are a community."
---