Auroville's anniversary on February 28, 2020, also marked the inauguration of a new initiative to structure Auroville's waste handling: Re-Centre. The name came from the motto "Reduce, Reuse, Recycle", which brings together the hub's different projects.
"It came about because all our activities were a bit disjointed", says Ribhu of WasteLess, Auroville's experts on waste management and sustainable consumption. "We decided to create a vision for Auroville's waste management. It was interesting because many units joined in. Out of that vision, came the need to work more closely together physically, so we could collaborate more". After two years of discussions, the new building was made possible thanks to Auroville's 50th anniversary funding in 2018.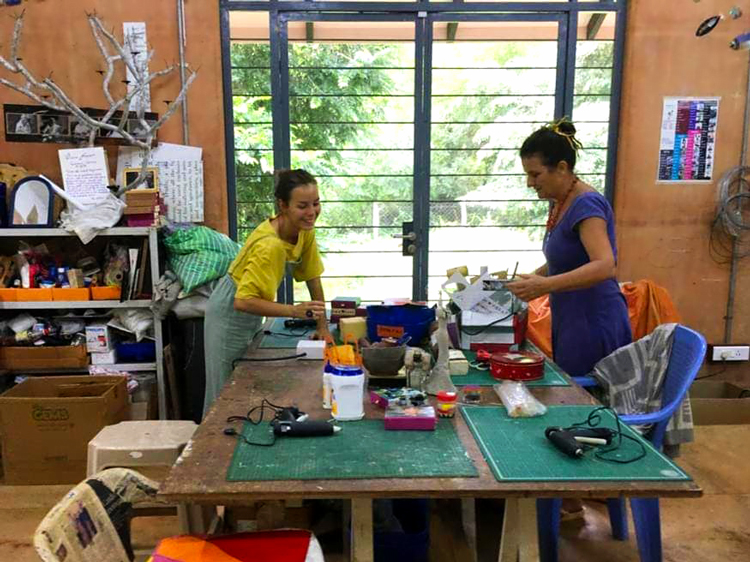 While WasteLess focuses on education, Re-Centre is also home to two up-cycling studios, Ok Upcycling and Start Upcycling, which convert waste into art. Ok Upcycling was founded by Ok Jeong Lee in 2011, and was previously based in Udavi school before moving to Re-Centre. "Being in Re-Centre studio gave me the feeling that l have my own house where we can build a story", she says. "The size of space allowed us to create artwork of bigger size, and to increase the variety of the collection."
The studio currently has four regular members, as well as short-term volunteers. Later this year, they plan to train two interns over a period of six months, with the aim of starting a new Upcycling studio in Rajapalayam, southern Tamil Nadu.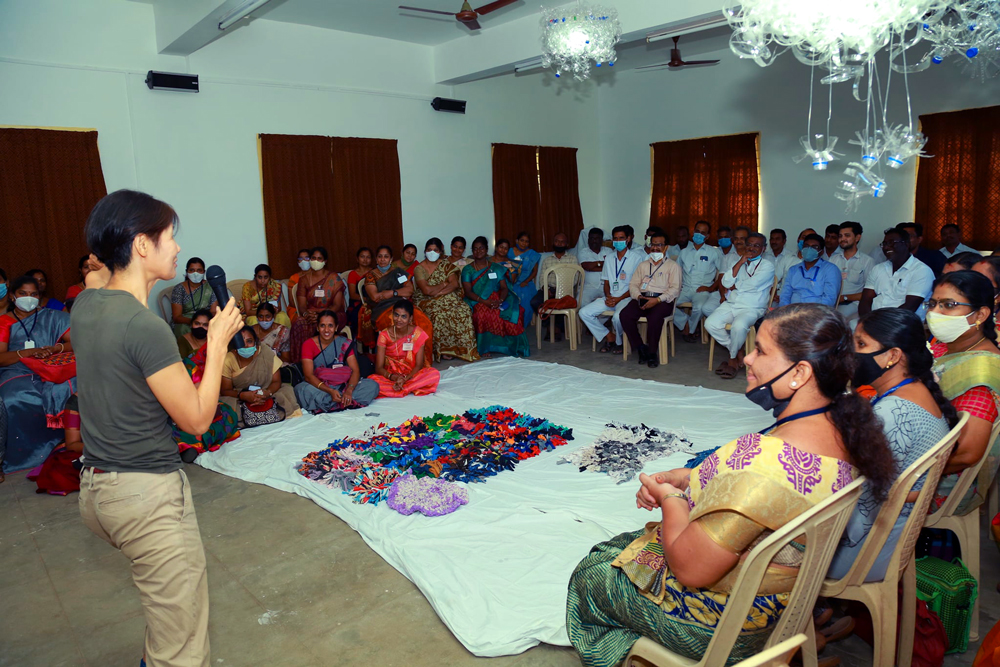 Room to Expand
The real heavyweight of Re-Centre is set to be Eco Service, Auroville's waste collection and segregation unit, which has already set up a small office at the new site, and intends to start operations there sometime in 2023.
At present, EcoService is based in Auroville's Industrial Zone, from where they handle the daily waste for about 10,000 people. That includes Auroville residents, workers, guests and tourists. By adding a facility at the new Re-Centre, Palani of EcoService estimates that they will be able to cater to three times the current number, as Auroville's population grows and as its needs expand.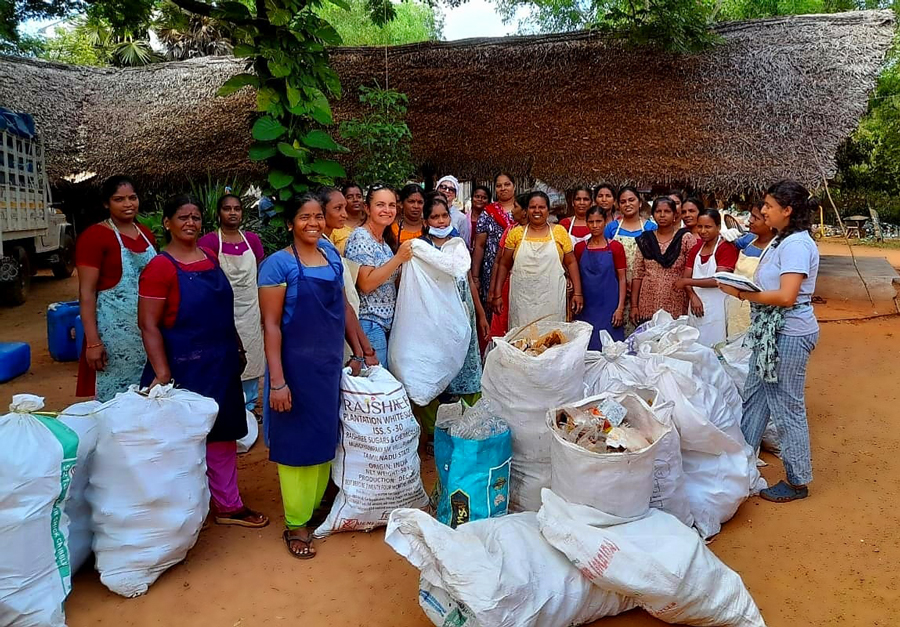 A major factor in choosing the new site has been its location near Auroville's main tar road. The current EcoService site, active since 1988, is located within Auroville's town area as per the Master Plan, which means that in the future, heavy vehicle access to it may be restricted. Proximity to the wide road will ensure that EcoService trucks can comfortably load and unload, making it possible to easily move materials outside of Auroville.
The new site will also provide storage space for certain categories of waste such as Tetra Pak and multi-layered plastics. The highly specialized factories which re-process these types of waste are few, and located as far away as Mumbai and Bangalore, making transport prohibitively expensive. However, by segregating these items and keeping them out of the landfills, Auroville can serve as an example. To make transport cost-effective, Palani estimates that 8 – 10 tons of these items must be segregated and saved, before being sold to a recycling factory.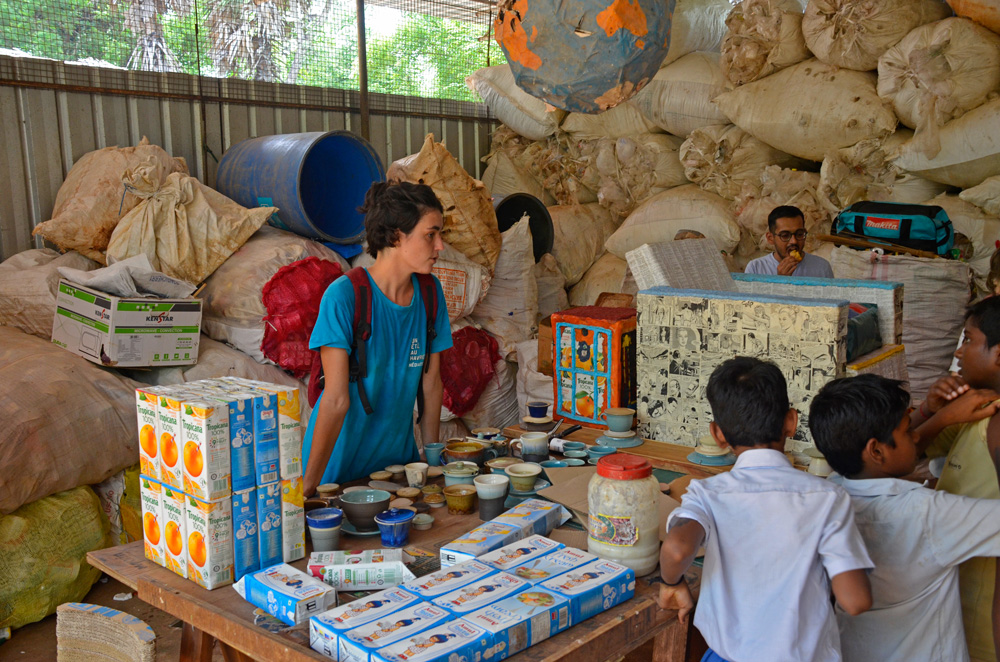 Strength in Numbers
Ribhu comments on the new site: "In the future Auroville needs to expand its collection coverage, the amount of waste we collect", says Ribhu. "We have this as an expansion space. We can work with artists, with the waste collectors, with social enterprises; and together not only help solve Auroville's waste problems, but also showcase solutions for the outside world."
Re-Centre currently hosts demonstrations on handling waste for student groups, visits by government officials, and Newcomers to Auroville. There are visits from NGOs which are in the field of education, or who want to add an educational component to their activity. Seeing the different units at one site will help visiting groups to understand the overall picture of waste management.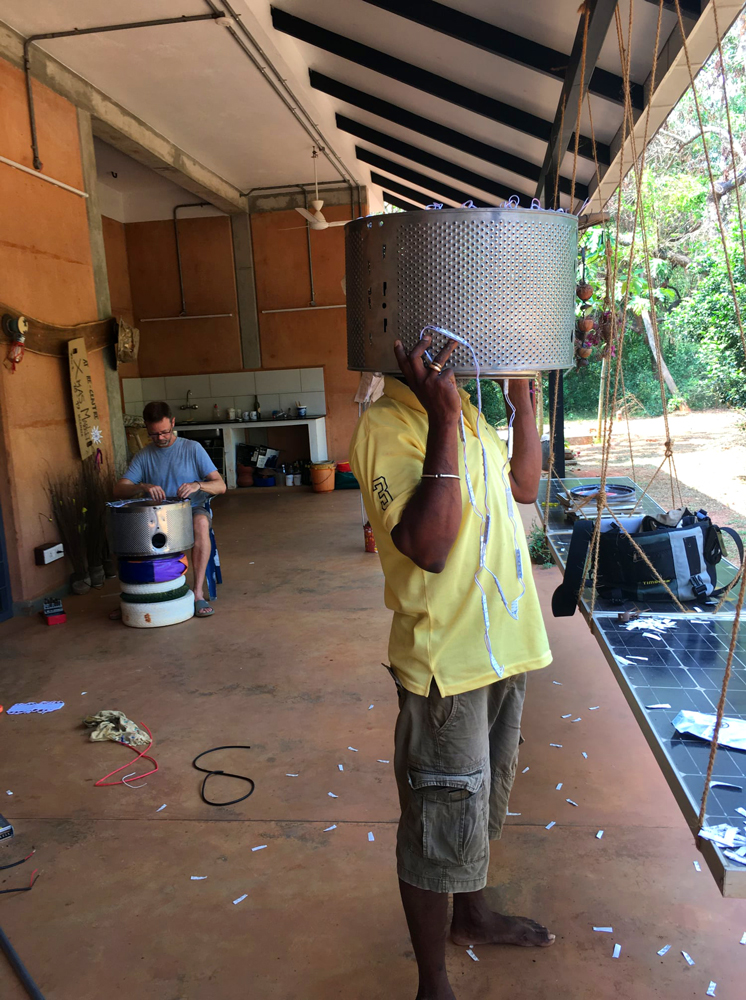 Ok Upcycling items are for sale at the Auroville Visitor's Centre shop Stand4Upcycling, in Pondicherry, or ordered personally from their studio. The designs are open-source, in order to encourage others to upcycle and reduce waste. For Diwali, which has light as its theme, Ok plans to have an exhibition of lighting fixtures from recycled materials.
"This is the first building of many that we envision," Ribhu comments. "We could create a kind of campus of innovation in the field of waste management, where there can be cross-collaboration."
Palani agrees: "We want to build the bridge. Working together is very nice, we have more strength when we are together."