Auroville's Tibetan Pavilion is a beloved gathering place near the township's centre. We look at the history Tibetan people share with Auroville from its inauguration to the present day.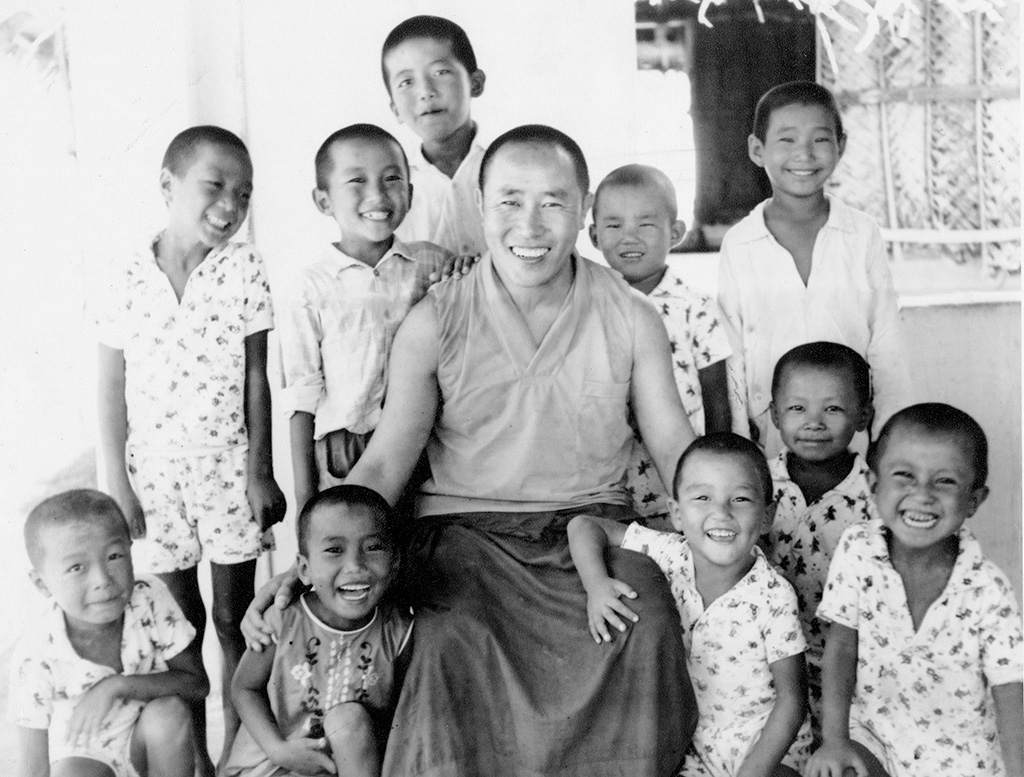 Auroville and the Tibetans
1959 was a fateful year for Tibet, when His Holiness The Dalai Lama and his entourage took refuge in India after being driven out of their homeland. 12,000 refugees streamed out of Tibet over the next few months, and two years later, the first Tibetan children arrived in Pondicherry.
These were admitted by The Mother, Mirra Alfassa, to the Sri Aurobindo Ashram school, and many others joined in small groups throughout the 60s. By the time of Auroville's 1968 inauguration, Tibetan representatives were numerous enough to stand in for other countries, like Korea and Afghanistan, whose delegates could not attend.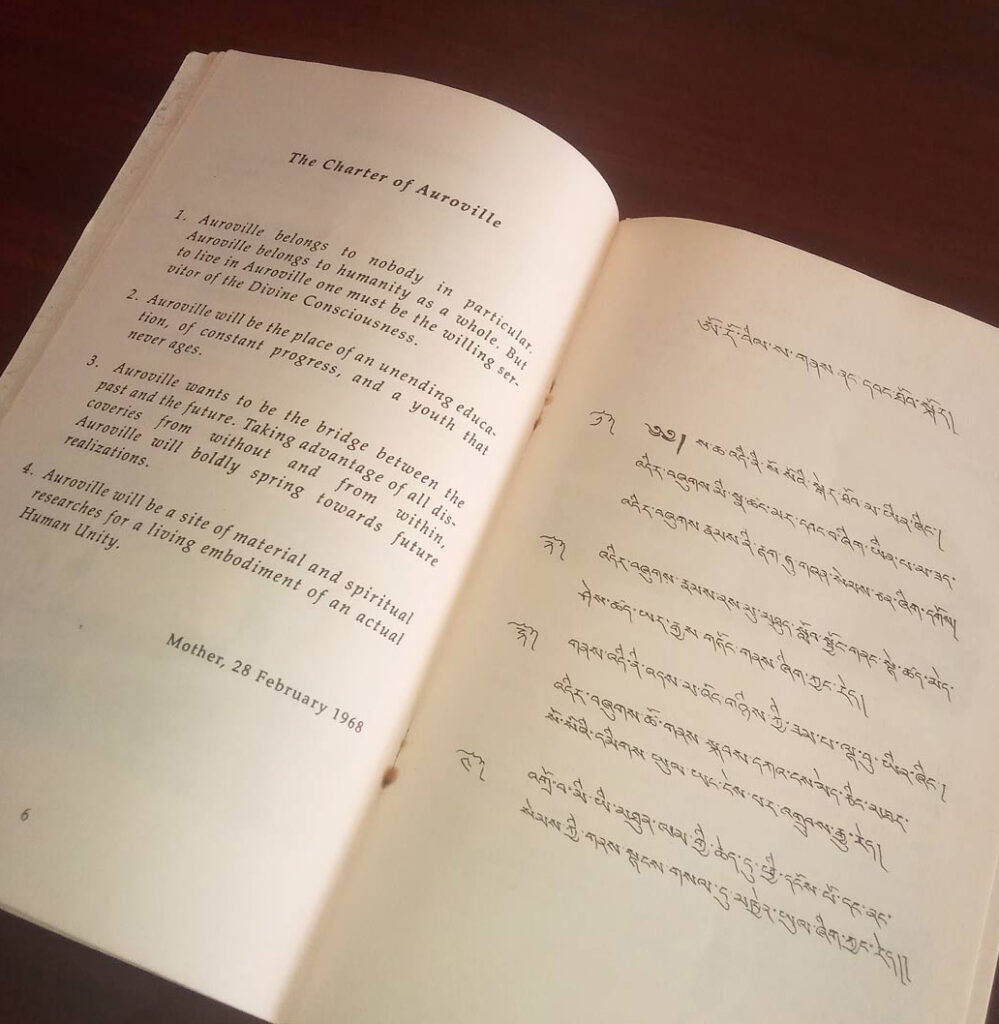 During the ceremony, representatives deposited a handful of their country's soil into a single urn at the amphitheatre; But soil from Tibet could not be found, so the Tibetan delegates instead added a pinch of Tibetan salt into the mix.
In 1970, the Dalai Lama declared his support for Auroville and for a pavilion to share the essence of Tibetan culture. Meanwhile, one of the Tibetan students in Pondicherry, Kathak Tulku, had been recognized as a Rinpoche – a reincarnated and highly honoured religious teacher. He suggested to the Dalai Lama that orphaned Tibetan children be sent to Auroville to grow up there, and participate in the Tibetan Pavilion's construction.
The Mother accepted and endorsed this idea, and the children were then selected by Tibet's own Mother ("Amla"), the Dalai Lama's sister and then-minister-of-education, Jetsun Pema.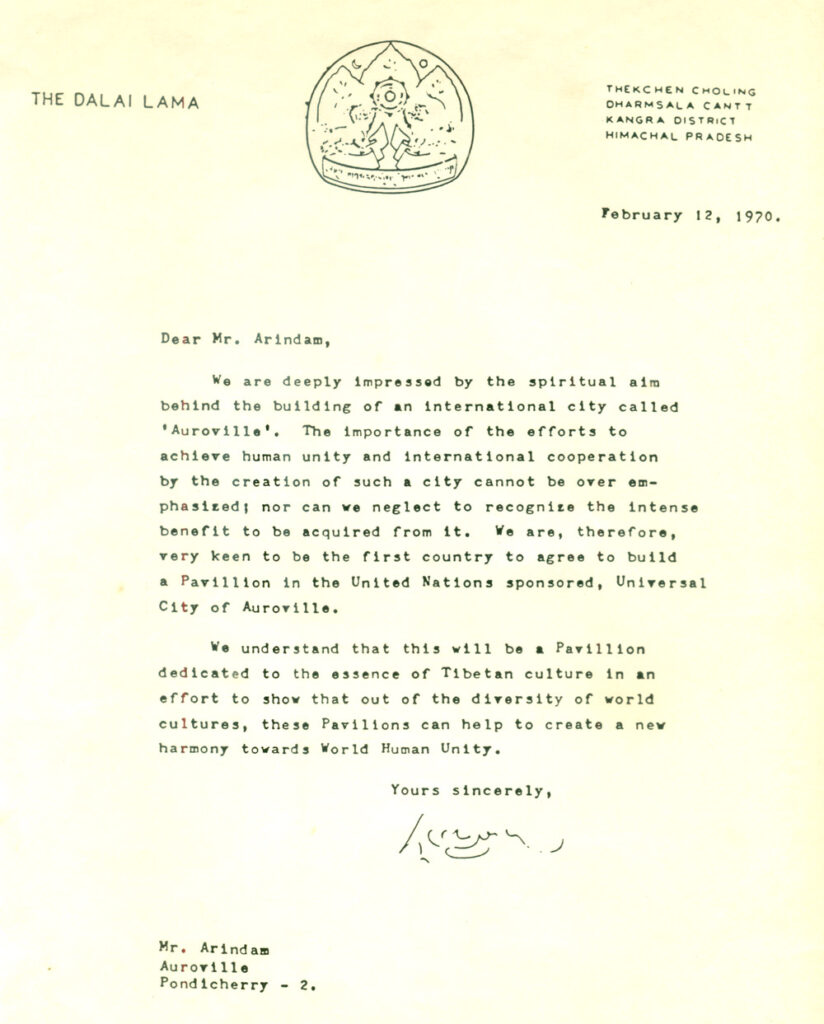 The first batch of 10 children, accompanied by a Lama (teacher), began taking the bus from Pondicherry to Auroville's Aspiration school in 1971. When the teaching staff suggested the Tibetan children be adopted by Aurovilian families, The Mother firmly rejected the idea, saying that they must remain together to properly represent their culture. It wasn't until 1974 that a Tibetan boarding school was set up in the Douceur area, and the children could finally move in.
The Dalai Lama first visited Pondicherry and Auroville in January 1973. He met with The Mother, and greeted the Tibetan children studying in Auroville. In a private remark, he is reported to have said: "Sri Aurobindo and the Mother are the most important personalities in the world today." (source: The Mother's Agenda)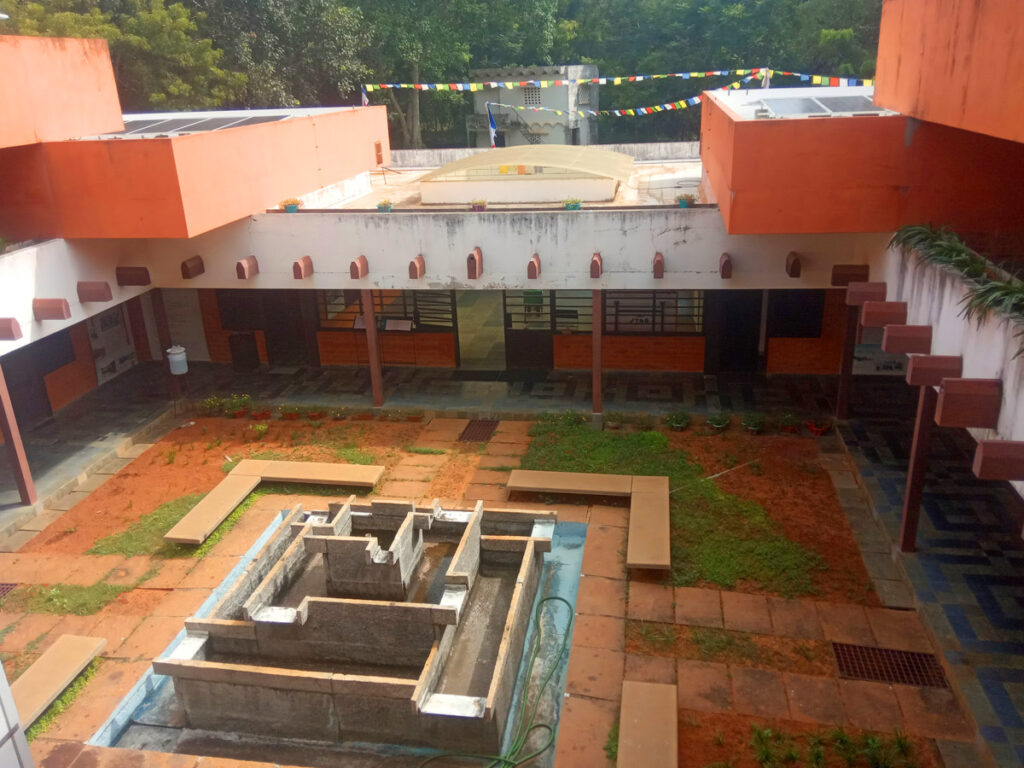 The Way to a Pavilion
Contact with Dharamshala remained sparse during Auroville's tumultuous early history. 1987 saw a Tibet week event organized at Bharat Nivas, as well as a visit by the Dharamshala-based Tibetan Institute of Performing Arts, where traditional folk-songs and dances from the Tibetan highlands are performed.
In 1989, the first Tibetan medical camp was held in Auroville with a visit from the personal physician of the Dalai Lama, the late Dr. Tenzin Choedrak, and two other Tibetan doctors. The Tibetan medical camp became a tradition, continuing as the Pavilion was taking shape, and as interest in Tibetan Medicine and Astrology kept growing in India.
It wasn't until 1991 that a grant from the European Union towards the Pavilion's construction was secured. In 1993, Aurovilian writer Claude Arpi was travelling to Tibet with a group of Americans, when he received a phone call from the Dalai Lama's office informing him of the intention of His Holiness to come and lay the foundation stone for Auroville's Tibetan Pavilion.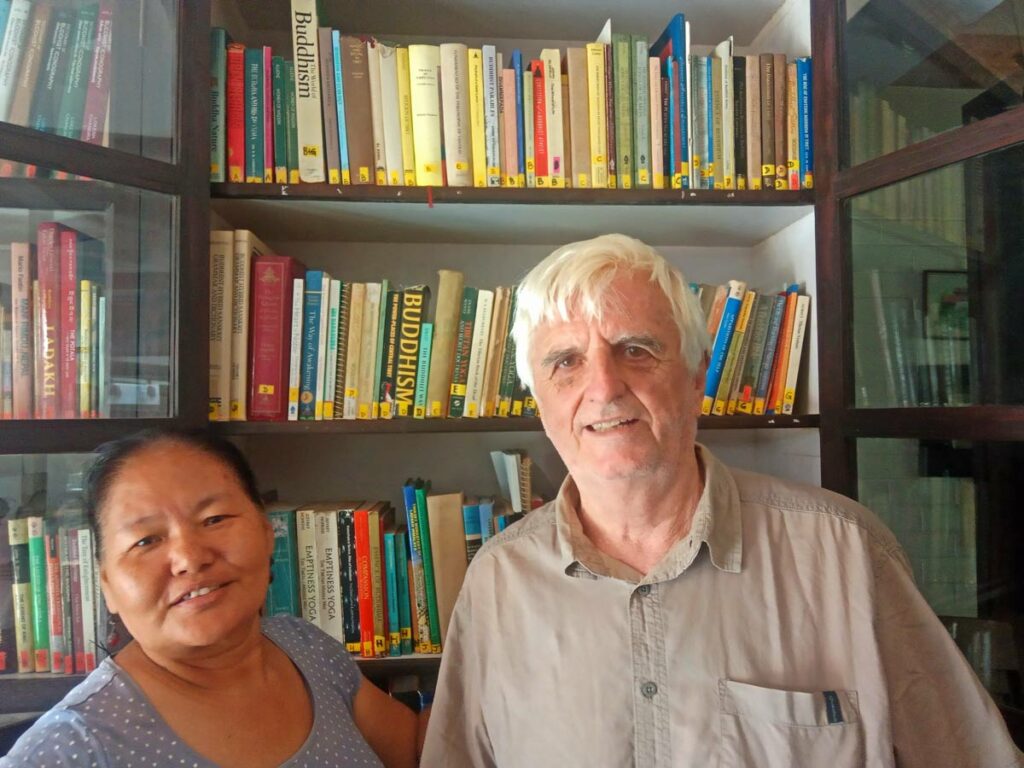 This gave Claude an idea, and he came back from Tibet with an 8 kg brick, which became the Pavilion's foundation stone, blessed by the Dalai Lama in December of that same year. After funding arrived, construction could finally begin in 1997. The building design selected was one based on the Tibetan Kalachakra mandala, and inspired by buildings in Himachal Pradesh's Spiti Valley and Ladakh – architecture styles close to Tibet's.
Kalsang was born in Tibet, grew up in Dharamshala and came to Auroville at age 15 as an exchange student. In 1994, she met Claude of the emerging Tibetan Pavilion group at a workshop on sustainable living, and the following year had an audience with the Dalai Lama who encouraged her to continue working in Auroville: "I was very touched by Mother's words that what's important in Auroville is to serve with sincerity in your heart; not qualifications, but to be a good human being".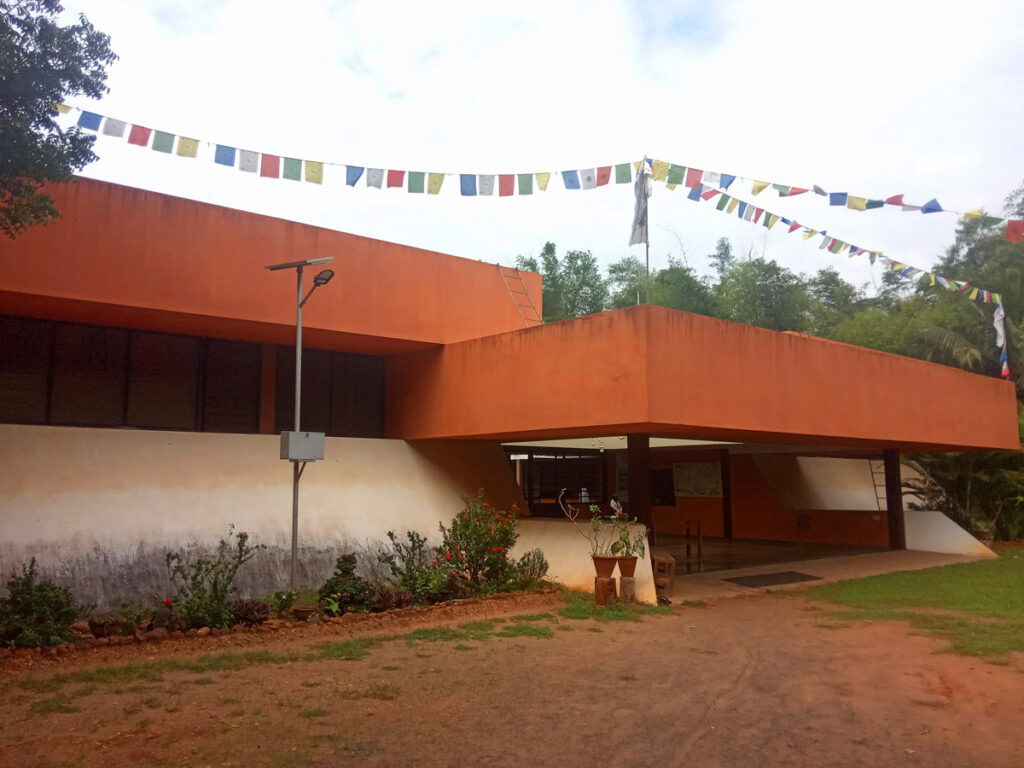 Still, there remained much fundraising work to be done. Grants for the pavilion arrived from His Holiness the Dalai Lama's office, from the Indian government's scheme for Buddhist and Tibetan buildings, and from the EU, which set the condition that the building must become self-sufficient. To achieve this aim, a guesthouse was created to generate income. Further support for the library came from the Indian Ministry of Education.
In 2009, the Dalai Lama visited Auroville for the third time to inaugurate the Pavilion of Tibetan Culture. After a tour of the newly completed Matrimandir, he gave a talk at the Tibetan Pavilion on the topic of universal responsibility and human unity, which was attended by around 2000 people.
Activities
Since opening its doors, the Tibetan Pavilion has been an important community building for Auroville. Being a complete pavilion, with a conference room, guestrooms and a kitchen, allows it to serve as a space for different activities, many of which do not necessarily have a "Tibetan" focus.
The yearly prayer for unity is a popular Auroville event, conducted every December 31st, since 1996. Against a backdrop of Tibetan chants, Aurovilians and guests are invited to let go of the past year's difficulties, and welcome a luminous new year.
The Medicine Camp, now in its 33rd year, continues to be held every month. Additionally, people come to the Tibetan Pavilion for the Auroville introduction program – Yucca – and for many other workshops. Kalsang often meets with Auroville youth, and has led a group of youth from Auroville and its bioregion to Dharamshala, where they were welcomed by the Dalai Lama himself.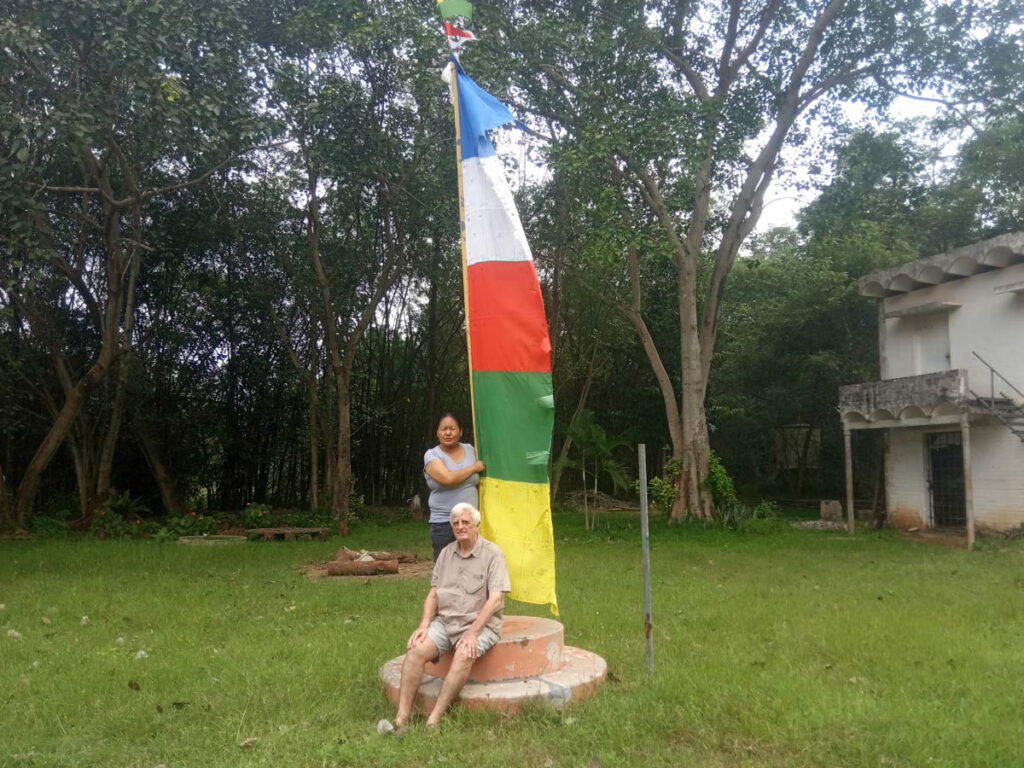 A Centre for Education
"His Holiness knew that I was studying history and reading books on Tibet," says Claude, "The Mother had very clearly said 'no religion in Auroville', and he knew that it was not a monastery but a secular building. So he asked me to do an exhibition. I made two: One on the history of Tibet, and the other on the relationship between India and Tibet".
Both exhibitions were used in Dharamshala in the Tibetan museum. At the Tibetan Pavilion, Claude's exhibitions often act as visitors' first introduction to Tibetan culture and history.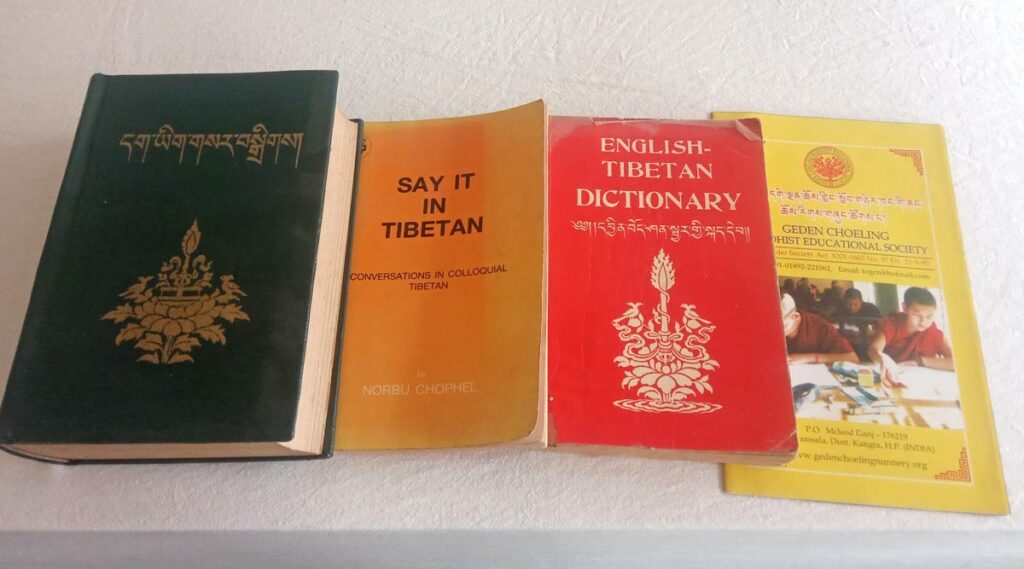 The Pavilion is also home to a library focusing on Tibet and Buddhism, as well as on other forms of spirituality and neighbouring Himalayan regions such as Ladakh and Bhutan. These resources are freely accessible, and have been a valuable tool for Tibet researchers.
"Compassion is the other aspect of Tibetan culture," Claude says – "so I feel happy when reconciliation meetings, and the Auroville introduction program, happen here". The Tibetan Pavilion is currently booked for events 6 evenings a week, with a range of activities offered, from workshops on non-violent communication, to mantra chanting, to community meetings and meditations.